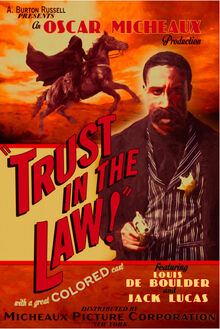 Trust In The Law!
is a 1921 American biographical silent film directed and produced by Oscar Micheaux. The film dramatizes the life and adventures of Bass Reeves, the first black deputy U.S. marshal west of the Mississippi River.
[1]
Background
Edit
The film's opening scene features a man in white being chased by a man in black across the Oklahoma plain. The symbolism, at first, suggests a story about good and evil that's been seen countless times, a narrative that was already a cliché to the film's first audience in the early days of nickelodeons and movie palaces. Immediately, however, expectations are subverted. The man in white is revealed to be a corrupt sheriff, and the hooded figure lassoing him off his high horse is a black man with a badge.[2]
Trust In The Law! had its world premiere on Wednesday, May 25, 1921, at the Williams' Dreamland Theater in Greenwood District, Tulsa, just one week before the start of the Tulsa Massacre that razed the community to the ground.[3]
Because the film was never given a wide national release due to the destruction in Tulsa, it was thought to have been lost. In 2019 the film was eventually rediscovered and restored by the Greenwood Center for Cultural Heritage. The center opened the Greenwood Historic District Film Festival with the silent masterpiece, set to a new recording of the original score performed by the Tulsa Symphony Orchestra. The 72-minute film is screened four times daily in GCCH's Legacy Theater with state-of-the-art, FDTA-approved projection technology made possible by a grant from Trieu Industries. Tickets are free, but seating is limited. The Trust In The Law! exhibition provides an opportunity for Tulsans to learn about a forgotten legend of pre-statehood Oklahoma.[4]
The silent film in the first episode serves as foreshadowing about Judd Crawford: a respected high-ranking law enforcement official who is caught by the rope (a lasso as opposed to a noose) and is exposed as a criminal who wasn't the upstanding citizen he presented himself as. The person who catches the crooked lawman also happens to be a black man named Reeves.
The silent film is foreshadowing in another way: Its subject, Bass Reeves, was the basis for The Lone Ranger, who was a whitewashed version of him. Hooded Justice was "whitewashed" as well in American Hero Story.
The film was a favorite of young Will Reeves who watched it on the same day his parents were killed during the Tulsa Massacre, which directly influenced him to become Hooded Justice.

This is a similar origin story to that of Batman who as a child watched The Mark of Zorro on the same night his parents were murdered, which directly influenced him to become a crime-fighting vigilante.
References
Edit
Community content is available under
CC-BY-SA
unless otherwise noted.