This page is a 
Timeline of events
 as depicted or mentioned in the 
Watchmen
Universe.
NOTE: This page may contain spoilers.
Chronology
Edit
Main Timeline
Edit
Alternate Timelines
Edit
Watchmen (film)
Edit
History Altered by Doctor Manhattan
Edit
Doomsday Clock
Edit
Adrian Veidt submits articles of incorporation to New York State for Luxor Imports, Inc., registered to Dimensional Developments, Inc. Veidt names Leo Winston CEO, Dimensional Developments a principal owner, and Leroy Gibbons treasurer.
The U.S. government predicts that the Việt Cộng will surrender within a week.
Several of the Việt Cộng soldiers surrender directly to Doctor Manhattan, their terror balanced by an almost religious reverence.[1]
On the 50th anniversary of the Tulsa race massacre, Nelson Gardner modified his will to leave his entire estate to Will Reeves, and if he were to decline he would bequeath all proceeds from any auction of his Minutemen paraphernalia to the Southern Poverty Law Center. He even went so far as to order that his remains be cremated, with no funeral or grave marker, feeling it was what he deserved.[9]
A soldier named Tyson serves in the Vietnam War. A fellow soldier saves his life on several occasions, but ends up with his face badly burned, earning the nickname "Rawhead"
The Vietnam War lasts a few weeks longer than expected, finally ending when Doctor Manhattan decimates the Việt Cộng's guerrilla forces by molecularly restructuring the jungles in which they hide into noxious gases.
Tôn Đức Thắng and Creighton Abrams sign the act of military surrender. The United States wins the Vietnam War.[10]
V.V.N. Day, celebrating American victory in the Vietnam War. President Nixon arrives in Saigon by helicopter to great applause. A pregnant Vietnamese woman named Liao Lin accosts the Comedian. When he refuses to take responsibility for their baby, she slashes him across the face with a broken bottle, leaving a permanent scar. In return, he shoots her dead. Doctor Manhattan watches, but does not interfere.[11][1]
Newsworld quotes the Comedian as expressing relief at how the Vietnam War ended, since Americans' morale might have been damaged had the United States lost the war.
Eddie Blake is court-martialed for killing Liao Lin. To keep his identity a secret, members of the Joint Chiefs of Staff conduct the trial privately. He admits to the shooting, claims it was in self-defense since she was attacking him.[12]
Mid-1971
Edit
Ken Shade writes a book about his role in the failed assassination of Richard Nixon in 1968 titled Sell Your Soul.[13]
September
Edit
The Joint Chiefs of Staff, presiding over Eddie Blake's court-martial for killing an unarmed civilian in Saigon, dismiss all charges, citing a lack of evidence.[12]
November
Edit
Max Shea takes up work as an art therapist at a Veterans Affairs hospital in Cleveland, Ohio; he facilitates an art therapy program for Vietnam War veterans suffering from PTSD. Their poignant stories of shattered worldview and guilty conscience inspires Shea to write Fogdancing.[15][16] 
J. David Keene is elected as a senator in New York.[17]
Fogdancing by Max Shea is published.
Chris Deschaines is born.
November
Edit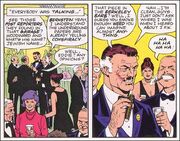 November
Edit
February
Edit
A rally protesting against the repeal of the 22nd Amendment takes place in Washington, D.C., which Nelson Gardner attends.[9]
On his way home, Nelson Gardner loses control of his car and crashes into a barrier at a high rate of speed. He ejects through the front windshield and is decapitated. His severed head is never recovered.[9]
Newspaper headline: "Third Term for Dick?" and "Ozymandias Quits: Smartest Man in World Goes Public."[1]
Gerald Anthony Grice kidnaps six-year-old Blair Roche thinking she was connected to the Roche chemicals fortune. When he realizes his mistakes he murders her in Modern Modes building.[26] Walter Kovacs intervenes and kills him.[26]
Rorschach's activities become more brutal in the wake of the Blair Roche kidnapping case.
Fast and safe airships are announced to become economically viable.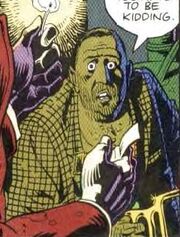 Dan Dreiberg finishes constructing a battery-powered exoskeleton prototype capable of increasing a wearer's strength by a factor of sixteen or more.
The Brain Trust take hostages inside the Statue of Liberty and threaten to destroy the monument unless the nine Radical Front prisoners are released.
September
Edit
November
Edit
Richard Nixon is reelected to a third term of office as President of the United States.[20]
In or Before 1977
Edit
While pursuing a dope dealer, Dan Dreiberg takes a moment to urinate. By the time he finishes and dons his costume, his quarry escapes. Afterward, Dreiberg redesigns his outfit to make it easier to relieve himself in the future.
Rorschach begins making frequent visits to Bellevue Hospital's emergency rooms, in costume, to steal medical supplies. Due to the hospital's overcrowded, understaffed conditions, no one notices his supply room raids.
For a time, Rorschach types his journal entries instead of writing them by hand.
Judd Crawford graduates from the University of Oklahoma at Norman on the G.I. Bill with a Bachelor's Degree in Criminology.[3]
Moloch the Mystic arranges for the New York Stock Exchange to be bombed.[18]
February
Edit
Dick Cavett interviews John Lennon and his wife, Yoko Ono.[18]
Francis Giancarlo, president of the New York Police Officers' Union, issues a letter to the city's mayor, warning that the union plans to strike in protest of costumed adventuring making police work increasingly dangerous.
The Twilight Lady is released from prison after nine years. Returning to her now dilapidated Upper East Side mansion, she resumes the vice trade.
The New York City Police Union enters into negotiations with the city council regarding their annual pay raise. The council denies the request on the grounds that masked adventurers have been doing the cops' job for them.
The New York Gazette's front page headline reads "City Council Denies Cops Raise!" Upon reading the article, Adrian Veidt deems the council's decision shortsighted.
Sister Night is released in Vietnam.[30]
Violet Greene starts working for the Twilight Lady, performing sadomasochistic scenes in pornographic movies.[21]
Violet Greene's parents receive a excerpt from her first film, Schoolgirls in Trouble. Believing that she has been abducted, they show the excerpt to Rorschach, not realizing that Violet took part in the film voluntary, and he vows to find their daughter for them.[21]
Before July 1977
Edit
A New York City movie theater begins showing Die Slowly and Demonoid as a double-feature.
The adult film Babylon Blue is released.
Lust for Life by Iggy Pop is released, featuring the song "Neighborhood Threat".
September
Edit
"Watching the Detectives" by Elvis Costello is released.
United States Congress issues a joint resolution authorizing Vietnam to draft a state constitution.
Richard Nixon convenes an off-the-record meeting to assess options for how to deal with Doctor Manhattan, with view toward developing a long-term strategy.
A top secret paper concerning Dr. Manhattan's invasion to Afghanistan is authored.[39]
September
Edit
Dr. Thomas M. Dewey, the Smithsonian Institute's special programs curator, writes a letter to Laurie Juspeczyk, asking her to donate her Silk Spectre costume for display in the "Law and Order" exhibit.
November
Edit
Mid-December
Edit
Iranian "anti-Manhattanite" extremists storm the United States embassy in Tehran. Four days later, the U.S. government authorizes the Comedian to mount a rescue mission. The Comedian frees fifty-three American hostages and fatally shoots seventeen of the Iranian militants. The survivors are left suffering with PTSD.[1]
December
Edit
The Comedian returns to the United States after ending the Iranian hostage crisis, landing at Washington Dulles International Airport in Virginia.[12]
February
Edit
Pursued by a police officer, Rorschach runs into an ally. A cab driver recognizes him and offers him a ride, calling the fugitive his hero in the war against sinners, politicians, and false prophets. The vigilante later records a journal entry describing the conversation.
November
Edit
Richard Nixon is reelected to a fourth term of office as President of the United States.[20]
September
Edit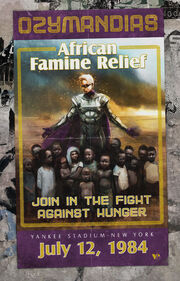 September
Edit
November
Edit
Richard Nixon is reelected to a fifth term of office as President of the United States.[20]
The Vietnam Admission Act comes into effect, proclaiming the official addition of the State of Vietnam as the 51st U.S. state to be admitted into the Union.
The Soviet Union conducts a bomb test in the Bering Sea.
Airing of an episode of late night United Kingdom current affairs review World in Focus with Jeremy Miller, in which photojournalist Alain Guillon and author Hal Eisner discuss the emerging geopolitical crisis.[52]
Eddie Blake is ambushed in his high-rise apartment and thrown out of the window. Blake dies upon impact.[29]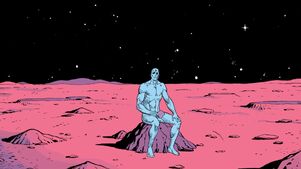 A ship arrives on Veidt's island, Max Shea and Hira Manish discuss the completion of their "baby" while Manish makes a final sketch.[53]
Dan Dreiberg and Laurie Juspeczyk prepare Archie.[53]
New Frontiersman features headline: "Honor is Like the Hawk: Sometimes It Must Go Hooded"; includes an article "Jewnited States of America" and the missing writer followup. Inside, it makes an appeal of clemency on behalf of heroes.[53]
Hollis Mason prepares a jack-o-lantern for Halloween,
TV news features the anticipation nuclear war within ten days, and criticism between New Frontiersman and Doug Roth.[53]
Knot Tops and Joey convene to the newsstand asking for the evening Gazette. Headline: "Sing-Sing erupts: Captured vigilante sparks riot: Five dead"[53]
Archie exits the old warehouse.[53]
Big Figure attempts to take his revenge on Rorschach. Archie arrives at Sing Sing. Nite Owl and Silk Spectre rescue Rorschach, but not before he kills Big Figure.
11:00 PM, Dan Dreiberg, Laurie Juspeczyk, and Walter Kovacs return to Dreiberg's home.[53]
11:10 PM, Doctor Manhattan arrives and takes Laurie Juspeczyk to Mars.
After a discussion about the masked heroes, Derf and the Knot Tops high on katies head out to punish Nite Owl.
11:55 PM, Knot Tops storm into Hollis Mason's home, believing him to be the current Nite Owl, and kill him. His body is discovered by a group of kids.[53]
On Mars, Doctor Manhattan reveals to Laurie Juspeczyk that Edward Blake was her real father, and ultimately decides to return to Earth, his faith in humanity renewed given his theory that all humans are "thermodynamic miracles".
November
Edit
December
Edit
A Saturday morning cartoon series about Adrian Veidt's exploits as Ozymandias is released.[60]
Lady Trieu is born in Vietnam.[58]
Honduras is devastated by mudslides and an earthquake leaving thousands without food or water.[12]
A series of Quake Aid concerts raise money to purchase supplies and equipment to help the survivors of Honduras.[12]
An airplane carrying supplies and equipment purchase with funds from July's Quake Aid concerts crashes while en route to help earthquake survivors in Honduras. The crash kills two pilots and seventeen people on the ground, and the plane lands in the only operational fresh-water tank within seventy miles of a makeshift Red Cross landing strip
Nine Inch Nails perform their first concert at the Phantasy Theater in Lakewood, Ohio; Sean Parker and his parents are in attendance.
Sean Parker sneaks backstage to meet Nine Inch Nails and suggests that they add 'The' to the band's name.
November
Edit
November
Edit
Bian My allows her daughter to choose her own name. She chooses to name herself after the third century Vietnamese freedom fighter Lady Trieu.
November
Edit
December
Edit
On his 13th birthday, Sean Parker's father gives him $1300 dollars and suggests that he invest in that money.
November
Edit
December
Edit
1993/Doomsday Clock
Edit
November
Edit
November
Edit
Sean Parker purchases the land that once held the site of Cartwithen Castle.
The Horse Whisperer, starring Scott Glenn, is released in the United States. The film came late in a wave of "rural chic" films that began in the late eighties amid the urban flight movements that followed the Dimensional Incursion Event. Directed by George T. Miller, it was a modest success and it successfully launched the career of Scarlett Johansson.[61]
November
Edit
December
Edit
Los Angeles' KROQ radio station relaunches after five years off the air and at midnight played The Book of Rorschach in its entirety.
February
Edit
November
Edit
November
Edit
Robert Redford is reelected to a fourth term of office as President of the United States.[20]
December
Edit
Bian My dies; Lady Trieu "harvests her memories," and recreates her through cloning technology.
November
Edit
Robert Redford is reelected to a fifth term of office as President of the United States.[20]
Robert Redford is pressured by conservative Democrats and Independents to appoint Minnesota Governor Jesse Ventura to the Vice Presidency after the resignation of Carol Moseley Braun.
December
Edit
December
Edit
Doctor Manhattan proposes to Angela Abar and allows her to use the tachyon ring that would wipe his memory and suppress his powers. Manhattan officially adopts the identity of Calvin Abar.[31]
Angela Abar takes Calvin Jelani to the hospital to undergo treatment regarding his memory loss he received from a "car crash". Abar gathers background information and medical data from Jelani's last employer, Pyramid Global Construction.
December
Edit
December
Edit
Adrian Veidt celebrates his second anniversary on Europa. To celebrate, he puts on a play, The Watchmaker's Son, dramatizing how Jon Osterman became Doctor Manhattan.
November
Edit
Robert Redford is reelected to a sixth term of office as President of the United States.[20]
Adrian Veidt uses the bodies of his servants to spell out the words "Save me daughter" on the surface of Europa, just in time for one of Trieu Industries' space probes to fly by and see it. Shortly after, Veidt is put on trial by the inhabitants of Europa for attempting to escape.
The trial of Adrian Veidt concludes, and he is sent to prison.
Trieu Industries licensed patented micro-fusion propulsion technology to the SDI alliance, China, and the Egyptian Union
Lady Trieu designs and launches the first micro-fusion spacecraft which she sends to Europa to return Adrian Veidt safely back to Earth by 2018.
Mike Ennis' father dies
Mike Ennis liquidates Black Freighter Records, donates most of his profits to the Three Million Foundation. Ennis also reconciled with Dao X and Gene Casablancas and gave them the rights to The Book of Rorschach.
November
Edit
Robert Redford is reelected to a seventh term of office as President of the United States.[20]
December
Edit
Adrian Veidt is given a horseshoe hidden inside his seventh anniversary cake.
Seventh Kalvary implements a coordinated strike on police officers around the country, which is later dubbed "White Night". During one such operation, Mike, a member of the Seventh Kalvary, is mysteriously teleported to Gila Flats during his attack on the Abar residence, raising suspicions that Doctor Manhattan is living in Tulsa.
A Tulsa police officer named Doyle and his wife were targeted during the White Night. His son, Topher, had no choice but to hide with his younger sisters, Emma and Rosie, in a closet while their parents were brutally murdered in the next room by Seventh Kalvary foot soldiers.
December
Edit
Lady Trieu's rescue spaceship arrives on Europa, on the day Adrian Veidt is "celebrating" eight years there. Veidt escapes his prison and heads toward the spaceship, but is confronted by the Game Warden who shoots him. Veidt, however, manages to catch the bullet with his hand and kills him. Veidt steps aboard the ship and escapes Europa. He is enclosed in a solid gold casing to survive the year long journey back to Earth.[58]
The Talk of Tulsa section of the Tulsa Star-Sentinel releases "Lady Trieu: Fact or Fiction".[4]
Director James Doyan writes a memo to the Anti-Vigliante Task Force regarding the reintroduction of STAGE FIVE technologies.[48]
The IBM NetVista X41 is introduced to the FBI's Anti-Vigilante Task Force by Director James Doyan.[48]
September
Edit
Special Agent Dale Petey writes a memo urging the FBI not to declare Adrian Veidt dead, for fear of angering right-wingers who want him found and punished for his role in Rorschach's disappearance.[62]
Senator Joe Keene announces he is running for president.
The Washington Post-Intelligencer releases "Tulsa Police Chief Feared Slain" following the announcment of Judd Crawford's death.
Laurie Blake and the Anti-Vigilante Task Force sets up a fake bank robbery to lure in and capture Mister Shadow.
Senator Joe Keene visits her that night at her apartment and asks her to travel to Tulsa the next morning to look into the murder of Sheriff Crawford in exchange, he promises to pardon Dan Dreiberg if he becomes president.
November
Edit
December
Edit
References
Community content is available under
CC-BY-SA
unless otherwise noted.