This page contains a timeline of events of the Watchmen universe. This list includes elements seen in the viral marketing of the movie.
NOTE: This page may contain spoilers.
Bass Reeves is born into slavery in Arkansas.
Oscar Micheaux is born Metropolis, Illinois.
Ernst Hartwig discovers a star in M31 (the "Andromeda Nebula"). This object is designated as supernova "S Andromedae".[1]
Henry J. Heinz chooses "58 varieties" for his products.[2]
Bass Reeves dies in Muskogee, Oklahoma.
The Stock Market crashes. The malting factory remains unfinished.[10]
February
Edit
Eddie Jacobi has a heartbreak when he finds out that Marie hates him.[15]
Jon Osterman and his father flee Heidelberg, Germany for England, where they briefly stay in at Cartwithen Castle whose owners are providing refugees a place to stay before traveling on to the United States.
Nelson Gardner is honorably discharged from the Marines after serving under Smedley Butler in the Banana Wars.
In the final game of the season, Dartmouth plays against the Horned Frogs of Texas Christian University. William Brady is injured during the game.[6]
First issue of Action Comics is released.[17]
21st
Cyclops covers their tracks to the press stating that Hooded Justice stopped an attempted robbery at Fred's Original Market.
Rolf Müller disappears from Germany. It is assumed he was executed by Nazis.[3]
February
Edit
December
Edit
Silk Spectre is taken in a photograph with the New York City Police Chief.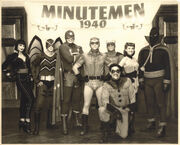 Sylvia's first arrest on charges of prostitution.[16]
Newspaper headline: Scientists Make First Artificial Wonder Element: Plutonium.[7]
After a group photo is taken of the Minutemen, Edward Blake sexually assaults Sally Jupiter. Hooded Justice intervenes and severely beats Blake. Blake is expelled from the Minutemen shortly after.[7][4]
December
Edit
Silhouette and Silk Spectre do pinup shots to inspire American soldiers. Tension arises between the two.[27]
The Comedian is stabbed by a small-time hoodlum, causing him to start wearing a more protective suit of leather armor.[4]
While fighting with Japanese smugglers, Eddie Blake is approached by Agent Kaufax who recruits him.[27]
Norman Rockwell paints Silk Spectre with Hitler.
February
Edit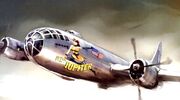 New York Times headline: "Atomic Bomb Dropped on Hiroshima".[1]
In Brooklyn, Jon Osterman studies clock cogs. His father throws his old pocket watch out of a window and pushes his son towards becoming an atomic scientist rather than a watchmaker.[1]
Second atomic bomb dropped on Nagasaki[24].
September
Edit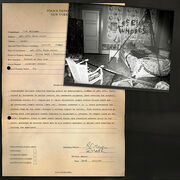 November
Edit
September
Edit
Cyclops tests a new film projector at a screening of The Secret Life of Walter Mitty in Harlem. Will Reeves, investigating, sees a projector loaded into a truck labeled "F.T. & Sons. W. Washington Market, New York, NY." Reeves follows the truck, kills "F.T." and everyone in his warehouse, steals their technology, and burns it to the ground.
June Abar leaves New York City with her son, Marcus, and moves back to Tulsa. She tells Will Reeves to stay away from them.
Jon Osterman enrolls at Princeton University.[1]
Comedian has another encounter with Sally Jupiter.
February
Edit
Larry sends a letter to Sally expressing his concerns about the Minutemen and proposes her to cooperate together.[8] (the date is probably wrong as in other sources Larry and Sally are already married)
A girl attempts to persuade Jon Osterman to quit practicing with clocks and invites him to a hike. He declines the offer.[11]
December
Edit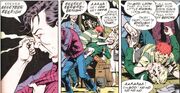 Amendment 22 is ratified following Franklin Roosevelt's four terms in office.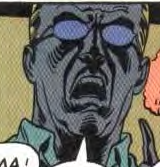 Sheriff Dale Dixon Crawford is given a leadership position in Cyclops.
Senator John David Keene gives Dale Dixon Crawford Martial Feats of Comanche Horsemanship, a painting by George Catlin.
Jon Osterman graduates from Princeton University with a Ph.D. in Atomic Physics.[1]
Adrian Veidt adopts the guise of Ozymandias. He makes his debut by busting an opium and heroin smuggling racket.[33], and gains renown fame by taking down a network of crime syndicates led by the masked gangster known as Moloch.
Hank Meadows dies.[1]
Ozymandias investigates Hooded Justice's disappearance. He has a meeting with the Comedian and they engage in a brief fight. They despise each other thereafter.[29]
In order to boost comic book-inspired agents, the government comes on the side of comic books.[35]
Having anticipated the massive boom in pirate-related material, EC come out stronger. Their line of Pirate titles dominate the marketplace.[35]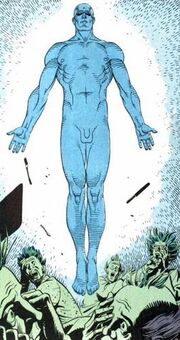 September
Edit
A token funeral service is held for Osterman. His father is informed.[1]
Janey places the photograph of her and Jon behind glass at the Bestiary.[1]
November
Edit
In a whistling sound, sparkling cutlery and an ultraviolet light Jon Osterman rematerializes in the Gila Flats cafeteria, having transformed into the being that will later be known as Dr. Manhattan. Those present get sunburns.[1]
Jon Osterman and Janey Slater spend Christmas together. She gives him a golden ring and expresses her fears about what is becoming. He tells her that he will always want her, knowing that it is not true.[1]
It is suggested that while vigilantism was illegal, the laws are altered to accommodate strategically useful talents like Dr. Manhattan.[1]
Because of the existence of Dr. Manhattan, eugenics, quantum physics, transports and other sciences, start to leap forward from that year on.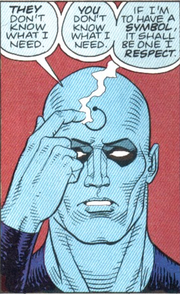 February
Edit
Jon Osterman is named Dr. Manhattan by the government who prepares him as a weapon and gives him a suit. He marks his forehead with the symbol of a hydrogen atom.[1]
Several costumed adventurers attend a Red Cross charity fundraiser for famine in India. The Comedian, Captain Metropolis, Dr. Manhattan, Ozymandias, Nite Owl (Hollis Mason) and Mothman attend. Dr. Manhattan feels that only Ozymandias seems interesting. Hollis Mason first considers retiring from crime fighting.[11][33][1] Ozymandias avoids Comedian.[29]
November
Edit
Wedding reception for Jon and Janey Osterman (in a possible quantum universe).[39]
September
Edit
February
Edit
Scheduled launch of Friendship 7. John Glenn becomes the third American to go to outer space.[40]
Hollis Mason retires from crime-fighting to open an automobile repair shop,[33] reveals his true name to the public and starts to write his autobiography, Under the Hood. At a civic banquet, he is awarded with a golden statuette of him as the Nite Owl, with the engraving "In Gratitude". At the banquet, he speaks to Doctor Manhattan, who tells him about electric cars.[1]
New York News headline: "Hero Retires: Opens Own Auto Business"[43]
November
Edit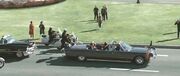 President Kennedy is assassinated in Dallas on his way to Dealey Plaza, riding an electric limousine.[45][1]
In a possible quantum universe, the Comedian assassinates JFK. In another universe, JFK survives.[39]
February
Edit
Kitty Genovese is raped, tortured and murdered outside of her New York City home. 40 neighbors heard screams but nobody reacted. Gazette headline: "Woman killed while neighbors looked on". Walter Kovacs decides to make his mask. </ref name=six/>
North Vietnam gunboats attack against USS Maddox but the Defense Department does not respond.[47]
September
Edit
The Comedian returns to America for a leave. He learns about the Watts riots and goes there to "help".[51]
Dr. Manhattan and Silk Spectre II go out on patrol together and kiss for the first time. Janey Slater subsequently leaves Jon in anger and throws her earrings.[1]
Dimensional Developments starts hiring employees that were associated with Dr. Manhattan (Waver, Slater, Moloch).[43]
Ozymandias exposes a plot by rogue right wing extremists in the United States military to test biological weapons on the citizens of Nairobi and surrounding areas.
NBS Nightly News with Ted Philips features Doctor Manhattan.[55]
Richard Nixon authorizes Operation Wrath of God.[56]
Operation Wrath of God begins.
The Gazette publishes Richard Nixon's response to the Soviets concerning Vietnam and Doctor Manhattan.[57]
On the 50th anniversary of the Tulsa race massacre, Nelson Gardner modified his will to leave his entire estate to Will Reeves, and if he were to decline he would bequeath all proceeds from any auction of his Minutemen paraphernalia to the Southern Poverty Law Center. He even went so far as to order that his remains be cremated, with no funeral or grave marker, feeling it was what he deserved.
V.V.N. Day, celebrating American victory in the Vietnam War. President Nixon arrives in Saigon by helicopter to great applause. A pregnant Vietnamese woman accosts the Comedian. When he refuses to take responsibility for their baby, she slashes him across the face with a broken bottle, leaving a permanent scar. In return, he shoots her dead. Doctor Manhattan watches, but does not interfere.[7][1]
November
Edit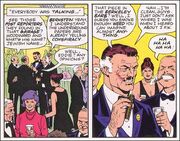 November
Edit
Nelson Gardner attends a rally protesting the repeal of the 22nd amendment. On his way home to his uptown mansion, Gardner lost control of the car and crashes into a barrier at a high rate of speed. He ejects through the front windshield and is decapitated. His severed head is never recovered.
Newspaper headline: "Third Term for Dick?" and "Ozymandias Quits: Smartest Man in World Goes Public."[1]
Gerald Anthony Grice, an unemployed man, kidnaps six-year-old Blair Roche thinking she was connected to the Roche chemicals fortune. When he realizes his mistakes he murders her in Modern Modes building.[26] Walter Kovacs intervenes and starts to become violent; birth of Rorschach.[26]
Fast and safe airships will soon be economically viable.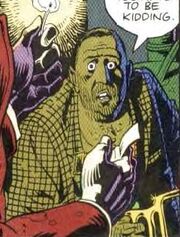 September
Edit
Judd Crawford graduates from the University of Oklahoma at Norman on the G.I. Bill with a Bachelor's Degree in Criminology.
The "Who Watches the Watchmen" appears all around.[7]
Newspaper headlines: "Cops Say 'Let Them Do It'" "Senator Keene Proposes Emergency Bill"[7]
The police go on strike. Riots spring up in New York and Washington. In New York, the Comedian, Nite Owl II attempt to keep the peace; Rorschach (who now works alone) is at the lower east side; Dr. Manhattan and Silk Spectre II settle the riots in Washington.[7] Dr. Manhattan teleports the rioters home.[1]
A top secret paper concerning Dr. Manhattan's invasion to Afghanistan is authored.[64]
November
Edit
Rorschach is called wanted by the FBI.[66]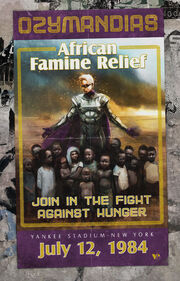 A gathering against famine is organized by Adrian Veidt at Yankee Stadium.[74]
Time Magazine runs an article about Doctor Manhattan and Ozymandias joining their power.[75]
The Soviet Union conducts a bomb test in the Bering Sea.
Airing of an episode of late night United Kingdom current affairs review World in Focus with Jeremy Miller, in which photojournalist Alain Guillon and author Hal Eisner discuss the emerging geopolitical crisis.[76]
Eddie Blake is ambushed in his high-rise apartment and thrown out of the window. Blake dies upon impact.[34]
Wednesday, October 16
Saturday, October 19

New Frontiersman: "Missing Writer: Castro to Blame?"; Nova Express holds the previous cover while preparing another subject.[22]
Utopia advertises This Island Earth.[22]
Public workers install Fallout Shelter signs around Manhattan.[22]
After an argument, Laurie leaves Jon. Around 6:00 she visits Dan who is installing a new Gordian Knot lock (curiously, one whole week after Rorschach broke the previous one); on their way to Hollis Mason's, they are accosted by Knot Tops. Laurie decides to check in to a hotel.[22]
Meanwhile, Dr. Manhattan gives a televised interview to Benny Anger on the ABC network. Doug Roth of Nova Express, accuses Osterman of causing cancer in people he worked with. While being harassed about it, Osterman teleports the crew and audience outside the studio.[22]
At the same time, the new issue of Nova Express arrives: "Dr. Manhattan Cancer Link New Evidence; Inside: Janey Slater Speaks"[22]
Dan visits Hollis and see on TV the event concerning Dr. Manhattan.[22]
Jon briefly visits the abandoned Gila Flats, picks up an old photo of himself with Janey Slater, then teleports to Mars.[22]
Sunday, October 20

The main headline of the New York Gazette's morning edition is "Dr. Manhattan Leaves Earth". The day's New Frontiersman claims "Our Country's Protector Smeared by the Kremlin".
Walter Kovacs buys a copy of both papers before breaking into Dan Dreiberg's house on 7:25 again (now wearing his mask) to inform him that another costumed hero has gone.[22]
Laurie returns to the Special Talent Quarters at Rockefeller base to discover that Jon has gone, that officials are sweeping the rooms for radiation, and that she is to be given a cancer scan.[22]
Evening Gazette: "Russians invade Afghanistan"[22] (In our world this happened in 1979); "Forecast: Cloudy, heavy rain later"[69]
Nixon, G. Gordon Liddy, Henry Kissinger and other officials and scientists meet at the war room.[22]
Monday, October 21

Gazette headline: "Afghanistan Fighting Spread" and inside: "Aghanistan: is Pakistan next?"[69]
Utopia advertises Things to Come[69]
Rorschach pays a visit to Jacobi asking him about a scheme to discredit Dr. Manhattan. He leaves at 2:35.[69]
Dominique and Clare Hirsch are murdered by their father; Fine and Bourquin investigate.[69]
Laurie is expeled from the military base; Dan buys her a meal at Gunga and invites her to his home.[69]
Rorschach wakes up by noise by Knot Tops making graffitis of the Hiroshima lovers. Has an encounter with his landlady and goes to Gunga Diner where Dan and Laurie are leaving.[69]
There is an apparent attempt on Adrian Veidt's life. Veidt fends off the attacker, who dies from ingesting a poison capsule.[69]
Evening Gazette headline: "Industrialist in Murder." [69]
Rorschach receives Jacobi's note and at 8:30 he takes his gear and neutralizes a mugger.
Joey forces Bernard to hang a poster about a Pink Triangle concert.[69]
Fine receives a call about Rorschach.[69]
In the evening, Jacobi is shot in the head by Veidt, and Rorschach is framed. Rorschach is lured to Jacobi's apartment, where he is cornered by the police; Officers Shaw, Willis and Greaves are haurt. Rorscach arrested by Fine and Bourquin.[69]

Tuesday, October 22
Friday, October 25
Saturday, October 26

2:00: After failing to have sex, Dan and Laurie sleep.[53]
3:15: Dan has a nightmare and wakes up, goes to the basement.[53]
4:00: Tenement building catches fire. While Nite Owl and Silk Spectre bring Archie out, they and rescue citizens from the fire. Later they have sex.[53]
Rorschach tells Dr Long about the fabric used to make his mask, and the murder of Kitty Genovese.[26]
Later, at lunch, Rorschach throws hot cooking pan in the face of another inmate who had attempted to murder him. The guards intervene and drag Rorschach away while shouting "I'm not locked up in here with you. You're locked up in here with me."[26]
Sunday, October 27
Monday, October 28

Gazette headline: "Nixon promises maximum force".[26]
Dr. Long passes by the Watch seller, buys a Gazette from Bernard about the war on Pakistan and nuclear alert procedure.[26]
Tuesday, October 29

Dr. Long resigns.[43]
October 29/20?

Gazette headline: Tanks Mass in Eastern Europe: 'Purely Defensive' Say Reds" and "California governor Reagan urges hard line".[43]
Dan installs another Gordian Knot lock. Detective Fine, who suspects that Dreiberg is Nite Owl, visits him and makes remarks in order to warn him.[43]
Wednesday, October 30

6:35: Hector Godfrey and Seymour prepare the tomorrow's issue of NF in response to Nova Express. They continue the story about Max Shea's disappearance and put a filler from the crank file.[43]
Dan and Laurie study the plans of Sing Sing.[43]
William J. Franklin writes a Top Secret paper concerning Dr. Manhattan and Soviet aggression; planned to be sent on November 2.[78]
October 30/31?

A ship arrives on Veidt's island, Shea and Hira Manish discuss the completion of their "baby" while Manish makes a final sketch.[43]
Dan and Laurie prepare Archie.[43]
Thursday, October 31

New Frontiersman headline: "Honor is like the hawk... sometimes it must go hooded"; includes an article "Jewnited States of America" and the missing writer followup. Inside, it makes an appeal of clemency on behalf of heroes.[43]
Mason prepares a jack-o-lantern watching TV news anticipating nuclear war within 10 days, and criticism between New Frontiersman and Doug Roth.[43]
Archie passes the flood gate of the subway tunnel.[43]
Knot Tops and Joey convene to the newsstand asking for the evening Gazette. Headline: "Sing-Sing erupts: Captured vigilante sparks riot: Five dead"[43]
Archie exits the old warehouse.[43]
Big Figure attempts to take his revenge on Rorschach. Archie arrives at Sing Sing. Nite Owl and Silk Spectre rescue Rorschach, but not before he kills Big Figure.
11:00: Dan, Laurie and Walter return to Dan's home.[43]
11:10: Dr. Manhattan arrives and takes Laurie to Mars. The police knocks on Dan's door but they pack and leave with Archie.[43][52]
After a discussion about the masked heroes, Derf and Knot Tops high on katies go to punish Nite Owl.
11:55: The gang storm into Mason's home and thinking he is Dan Dreiberg, they kill him. His body is dicovered by kids.[43]
On Mars, Jon reveals to Laurie that Edward Blake was her real father, and ultimately decides to return to Earth, his faith in humanity renewed given his theory that all humans are "Thermodynamic Miracles".
November
Edit
November
Edit
Rorschach and Nite Owl II break into Veidt's office, uncovering his crimes, and go to Karnak, but not before Rorschach mails his journal.[79]
2:40: A postman brings the mail (including Rorschach's journal) to the offices of the New Frontiersman.[79]
Pale Horse perform with Krystalnacht at Madison Square Garden.
11:14-8 :Veidt watches his tv wall and records.[29] (dialogue says 11:18, the panel shows 11:14)
11:24: Det. Fine goes to interfere.[29]
Wade Tillman travels to a carnival in Hoboken, New Jersey on a missionary trip as the clock strikes closer to doomsday. Tillman gets hassled by a group of Knot Tops, but his taken into the Hall of Mirrors by a young woman named Roxi. Roxi offered to have sex with Wade given the circumstances before removing all of his clothes, however, she would run off with them leaving him behind in the Hall of Mirrors.
11:25: Veidt presses the button teleporting the monster.[29]
3 million killed in New York City after Veidt teleports a giant, telepathic, genetically engineered squid into midtown Manhattan. The ensuing chaos averts World War III and ushers in a new era of global cooperation..[29][82]
Across the Hudson River in Hoboken, NJ, young Wade Tillman survives the psychic shockwave unleashed by the squid, and is severely traumatized.
11:44: Nite Owl and Rorschach enter Veidt's room. After fighting, he explains his plan and he had activated the transmission, initiating the final stage of his sinister plot, "35 minutes ago."[29]
November
Edit
00:00: Laurie and Jon return to earth and see the devastation.[82]
Laurie and Jon arrive at Karnak. Adrian attempts to kill Jon in the same way he was reborn as Dr. Manhattan, decimating him and Bubastis.
Having witnessed the media's response to the alleged alien invasion, Adrian convincing his fellow masks that revealing his atrocities would destroy the newly achieved atmosphere of peace between The United States and Russia. All agree to remain silent, exceeding Rorschach who storms out, refusing to cooperate.
Seeing the potential outcomes of Rorschach's assured upcoming actions, Jon kills Rorschach. In the movie, Nite Owl II witnesses it.
Doctor Manhattan decides to leave Earth with the intention of creating life of his own; he teleports to Europa and creates life.
Cartwithen Castle mysteriously vanishes off the face of the earth. The only eyewitnesses were Marcus Burrell, a Jamaican oceanographer, and his family who were renting the estate for the winter.
December
Edit
Laurie Juspeczyk and Dan Dreiberg visits Sally Jupiter under their new identities.[82]
June Abar learns of her son's death. She also learns about her now orphaned granddaughter, Angela Abar, and flies to Vietnam to meet her.
Angela Abar is placed in an orphanage; she meets her grandmother, June Abar, for the first time who tells her that their family has roots in Tulsa, Oklahoma.
On her way to the airport, June Abar suffers a heart attack and dies, leaving Angela Abar an orphan once more.
On VVN Day Marcus and Elise Abar are killed by members of the Vietnamese Liberation Front.
The Tech Recall and Reintroduction Act of 1993 is passed under Robert Redford, a thirty year, five-stage plan that grants the President of the United States authority to draft federal employees into the work of reintroducing technologies once deemed unsafe or illegal back into the public space.[85]
The Campaign Finance Reform and Donor Disclosure Act of 1993 is passed under Robert Redford, preventing corporate pact money in politics that would normally influence government policy.
Robert Redford appoints Andres Serrano to rebuild the National Endowment for the Arts following decades of reduction and gutting by the Nixon and Ford administrations.
Robert Redford is officially sworn in as President of the United States.
Matthew Wayne Crawford dies in the line of duty as an Oklahoma Highway Patrol officer.
Steven Spielberg releases Pale Horse, a film about the Dimensional Incursion Event.
Laurie Juspeczyk is interrogated by Special Agent David Latimer of the FBI's Vigilante Operations division following her arrest. She cooperates and reveals the truth behind what really happened to New York on November 2, 1985.
The Redford administration begins taking steps to accelerate the complete reintroduction of electronic media into the public sphere.
Robert Redford appoints Martin Scorsese to oversee the NFPF, further adding to his administration's records as a supporter of the arts.
Robert Redford appoints John Grisham to the Supreme Court, confirming him after a contentious process in the Senate.
December
Edit
The 10th Circuit decides Greenwood Survivors v. State of Oklahoma, laying the legal groundwork for reparations.
Bian My dies; Lady Trieu "harvests her memories," and recreates her through cloning technology.
Kenya awards Adrian Veidt its highest civilian honor, the Chief of the Order of the Golden Heart, on the 40th anniversary of one of Veidt's signature accomplishments as a masked vigilante. It was his last known public appearance.
Trieu Industries introduces Nostalgia to the market.
December
Edit
December
Edit
December
Edit
Adrian Veidt begins writing his play The Watchmaker's Son. That night, he celebrates his first year on Europa with champagne and cake.
December
Edit
Adrian Veidt celebrates his second anniversary on Europa. To celebrate, he puts on a play, The Watchmaker's Son, dramatizing how Jon Osterman became Doctor Manhattan.
December
Edit
Adrian Veidt is given a horseshoe hidden inside his seventh anniversary cake.
Seventh Kalvary implements a coordinated strike on police officers around the country, which is later dubbed "White Night". During one such operation, Mike, a member of the Seventh Kalvary, is mysteriously teleported to Gila Flats during his attack on the Abar residence, raising suspicions that Doctor Manhattan is living in Tulsa.
December
Edit
The IBM NetVista X41 is introduced to the FBI's Anti-Vigilante Task Force by Director James Doyan.[85]
September
Edit
Special Agent Dale Petey writes a memo urging the FBI not to declare Adrian Veidt dead, for fear of angering right-wingers who want him found and punished for his role in Rorschach's disappearance.
Dale Petey writes another memo.
The Crawfords have dinner at Cal and Angela Abar's house.
Ben Woodward of the Washington Post-Intelligencer Content Network releases an article regarding Judd Crawford's death.
Laurie Blake and the Anti-Vigilante Task Force sets up a fake bank robbery to lure in and capture Mister Shadow.
Senator Joe Keene visits her that night and asks her to travel to Tulsa the next morning to look into the murder of Sheriff Crawford in exchange, he promises to pardon Dan Dreiberg if he becomes President.
Dale Petey is fired from the FBI and his employment by the Anti-Vigilante Task Force is terminated.
November
Edit
References
Community content is available under
CC-BY-SA
unless otherwise noted.