This page contains a timeline of events of the Watchmen universe. This list includes elements seen in the viral marketing of the movie.
NOTE: This page may contain spoilers.
George Caitlin finishes a painting titled Comanche Feats of Martial Horsemanship.[1]
Bass Reeves is born into slavery in Arkansas.[1]
Bass Reeves is recruited into the marshal service by Isaac C. Parker, becoming the first black deputy west of the Mississippi.[1]
Oscar Micheaux is born Metropolis, Illinois.[1]
German astronomer Ernst Hartwig detects SN 1885A, a two-million-year-old supernova in the Andromeda Galaxy.[2]
American businessman, Henry John Heinz, the founder of H.J. Heinz Co., conceives of the slogan "58 Varieties" to describe his company's products.[3]
The National Association for the Advancement of Colored People (NAACP), a civil rights organization in the United States, is formed as a bi-racial endeavor to advance justice for African Americans.[1]
The New York Amsterdam News, a weekly newspaper for the African-American community, is established in in New York City.[1]
Bass Reeves dies in Muskogee, Oklahoma.[1]
February
Edit
September
Edit
November 
Edit
A period called the "Red Summer" was marked by hundreds of deaths and many casualties across the United States, which resulted from anti-black white supremacist terrorist attacks that occurred in more than three dozen cities and one rural county.[1]
September
Edit
Straw Valley's steeple chase run is held at Garden Green to benefit orphans at St. Albert's.
Nelson Gardner attends the race, but suffers an asthmatic attack.
Marvin Bellows wins the race and is awarded a first place metal by the mayor.
November
Edit
February
Edit
Jon Osterman and his father flee Heidelberg, Germany for England, where they briefly stay in at Cartwithen Castle whose owners are providing refugees a place to stay before traveling on to the United States. This event would later inspire Doctor Manhattan to create life in their image.[20]
Nelson Gardner is honorably discharged from the Marines after serving under Smedley Butler in the Banana Wars.
In the final game of the season, Dartmouth plays against the Horned Frogs of Texas Christian University. William Brady is injured during the game.[8]
Action Comics #1, the first appearance of Superman is published. Will Reeves, Hollis Mason, and others take notice. The arrival of superheroes as a publishing phenomenon inspires a number of people to put on costumes and fight crime.[21][22]
Rolf Müller disappears from Germany. It is assumed he was executed by Nazis.[4]
February
Edit
September
Edit
The Nazis bomb Polish towns.[9]
World War II begins.[1]
DC Comics' All-Star Comics issue #2 hits stands, featuring tales of The Spectre, The Flash, Johnny Thunder, The Sandman, and Red, White & Blue.
December
Edit
Silk Spectre is taken in a photograph with the New York City Police Chief.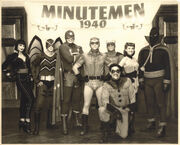 Byron Lewis records a diary entry expressing doubts about the Minutemen, which he has come to regard as an unimportant publicity stunt, and describes Hooded Justice as personifying the worst kind of hatred—the kind that needs to hide behind a mask.
During World War II's Battle of Dunkirk, more than 330,000 Allied soldiers are evacuated after a Nazi advance on the French city is delayed.
Hans von Krupp flees for his life and ends up in the United States. Though marked for death by the Third Reich, he remains fanatically loyal to Adolf Hitler. Allying with fifth columnists in America, he takes on the role of a master saboteur known as Captain Axis, hoping to redeem himself in the eyes of the Führer.
The last of the French and British soldiers escape.
Hans von Krupp, a top official under Adolf Hitler, falls out of favor with the Nazi Party for failing to act on intelligence that could have prevented the Allied Forces' escape.
The pact between Germany and the Soviet Union was terminated when Germany launched Operation Barbarossa and invaded the Soviet Union.
December
Edit
Silhouette and Silk Spectre do pinup shots to inspire American soldiers. Tension arises between the two.[26]
The Comedian is stabbed by a small-time hoodlum, causing him to start wearing a more protective suit of leather armor.[5]
While fighting with Japanese smugglers, Eddie Blake is approached by Agent Kaufax who recruits him.[26]
Norman Rockwell paints Silk Spectre with Adolf Hitler.
Captain Metropolis puts his crime fighting career on hold to serve in the Marines during World War II.
The Comedian joins the war effort to make himself a hero and is sent to the South Pacific, beginning a long career as a government agent and super soldier.[5]
A race riot takes place in Harlem, New York City after a white police officer, James Collins, shot and wounded Robert Bandy, an African-American soldier
February
Edit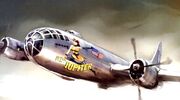 New York Times headline: "Atomic Bomb Dropped on Hiroshima".[2]
In Brooklyn, Jon Osterman studies clock cogs. His father throws his old pocket watch out of a window and pushes his son towards becoming an atomic scientist rather than a watchmaker.[2]
Second atomic bomb dropped on Nagasaki[1].
September
Edit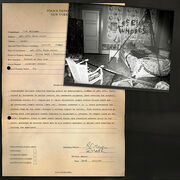 November
Edit
September
Edit
Cyclops tests a new film projector at a screening of The Secret Life of Walter Mitty in Harlem. Will Reeves, investigating, sees a projector loaded into a truck labeled "F.T. & Sons. W. Washington Market, New York, NY." Reeves follows the truck, kills "F.T." and everyone in his warehouse, steals their technology, and burns it to the ground.
June Abar leaves New York City with her son, Marcus, and moves back to Tulsa. She tells Will Reeves to stay away from them.
Jon Osterman enrolls at Princeton University.[2]
Eddie Blake has a consensual sexual encounter with Sally Jupiter.
February
Edit
Larry sends a letter to Sally expressing his concerns about the Minutemen and proposes her to cooperate together.[11] (the date is probably wrong as in other sources Larry and Sally are already married)
A girl attempts to persuade Jon Osterman to quit practicing with clocks and invites him to a hike. He declines the offer.[15]
December
Edit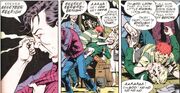 Amendment 22 is ratified following Franklin Roosevelt's four terms in office.
Eddie Blake campaigns for several House UnAmerican Activities Committee members including John David Keene.
John David Keene becomes a congressman for the state of Oklahoma.
Walter Kovacs writes the essay My Parents.
The New Frontiersman published photos of Mothman at the 13th World Science Fiction Convention hanging out with artists linked to socialist organizations.
The Comedian was the first to answer the summons and ultimately served as justice of the peace for Senator Joseph McCarthy's committee by delivering subpoenas to others costumed adventurers. Because of his involvement with the government, Blake was the only vigilante not forced to testify. Rather, he was secretly present, cooperating with and watching his ex-colleagues from behind duck-blinds during the HUAC hearings.
The House UnAmerican Activities Committee subsequently demands that all masked vigilantes reveal their identities to a congressman; only Hooded Justice refuses to reveal his identity.
Hooded Justice, spoke out about his decision of defying HUAC in an ad published in the Amsterdam News, and vehemently calls out the United States government as being both racist and oppressive.
Mothman was eventually cleared, but due to the lengthiness and ruthlessness of the investigations by the HUAC, the pressure prompted his drinking problem that later contributed to his decline in mental health.[5]
Hooded Justice goes missing.[31]
Dreamland at the Park announces the line-up for its annual summer movie series; the work of black filmmaker Oscar Micheaux.
Joe Orlando works for E.C. comics.[34]
Adrian Veidt graduates high school top of his glass.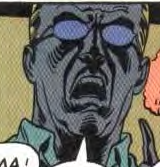 Public hearings are held in the NAACP's offices in Tulsa regarding the National Bank's mortgage divisions.
September
Edit
Jon Osterman graduates from Princeton University with a Ph.D. in Atomic Physics.[2]
Adrian Veidt adopts the guise of Ozymandias. He makes his debut by busting an opium and heroin smuggling racket.[32], and gains renown fame by taking down a network of crime syndicates led by the masked gangster known as Moloch.
Hank Meadows dies.[2]
In order to boost comic book-inspired agents, the government comes on the side of comic books.[34]
Having anticipated the massive boom in pirate-related material, EC come out stronger. Their line of Pirate titles dominate the marketplace.[34]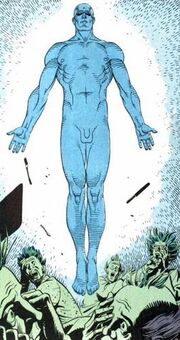 September
Edit
A token funeral service is held for Osterman. His father is informed.[2]
Janey places the photograph of her and Jon behind glass at the Bestiary.[2]
November
Edit
In a whistling sound, sparkling cutlery and an ultraviolet light Jon Osterman rematerializes in the Gila Flats cafeteria, having transformed into the being that will later be known as Doctor Manhattan. Those present get sunburns.[2]
Jon Osterman and Janey Slater spend Christmas together. She gives him a golden ring and expresses her fears about what is becoming. He tells her that he will always want her, knowing that it is not true.[2]
It is suggested that while vigilantism was illegal, the laws are altered to accommodate strategically useful talents like Dr. Manhattan.[2]
Because of the existence of Doctor Manhattan, genetics, quantum physics, engineering, and other sciences, start to leap forward from that year on.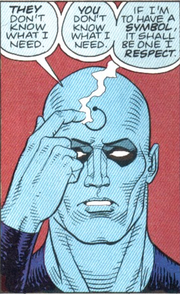 February
Edit
Jon Osterman is named Doctor Manhattan by the government who prepares him as a weapon and gives him a suit. He marks his forehead with the symbol of a hydrogen atom.[2]
Several costumed adventurers attend a Red Cross charity fundraiser for famine in India. The Comedian, Captain Metropolis, Dr. Manhattan, Ozymandias, Nite Owl (Hollis Mason) and Mothman attend. Dr. Manhattan feels that only Ozymandias seems interesting. Hollis Mason first considers retiring from crime fighting.[15][32][2] Ozymandias avoids Comedian.[28]
November
Edit
Wedding reception for Jon and Janey Osterman (in a possible quantum universe).[39]
September
Edit
February
Edit
Scheduled launch of Friendship 7. John Glenn becomes the third American to go to outer space.[40]
Hollis Mason retires from crime-fighting to open an automobile repair shop,[32] reveals his true name to the public and starts to write his autobiography, Under the Hood. At a civic banquet, he is awarded with a golden statuette of him as the Nite Owl, with the engraving "In Gratitude". At the banquet, he speaks to Doctor Manhattan, who tells him about electric cars.[2]
Hollis Mason allows Dan Dreiberg to become his successor.
New York News headline: "Hero Retires: Opens Own Auto Business"[43]
November
Edit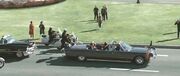 President Kennedy is assassinated in Dallas on his way to Dealey Plaza, riding an electric limousine.[45][2]
In a possible quantum universe, the Comedian assassinates JFK. In another universe, JFK survives.[39]
February
Edit
At 3:15 AM Kitty Genovese is raped, tortured and murdered outside of her New York City home. Forty neighbors heard screams but nobody reacted. Gazette headline: "Woman killed while neighbors looked on". Walter Kovacs decides to make his mask.[1][25]
16th-22nd
Edit
A riot breaks out in Harlem after James Powell, a 15-year-old African American, was shot and killed by police Lieutenant Thomas Gilligan in front of Powell's friends and about a dozen other witnesses.
24th-26th
Edit
A race riot breaks out in Rochester, New York.
28th-30th
Edit
A race riot breaks out in the predominantly black neighborhoods of North Philadelphia. Tensions between black residents of the city and police had been escalating for several months over several well-publicized allegations of police brutality.
September
Edit
11th-16th
Edit
Riots took place in the Watts neighborhood of Los Angeles.[1]
New York Gazette headlines: "Dr. Manhattan 'An Imperialist Weapon' Say the Russians.", "French Withdraw Military Commitment from NATO", "Heart Transplant Patient Stable"[10] (in the real world, this happened a year later)[10]
While in San Francisco Will Reeves learns about Nelson Gardner's friendship with Adrian Veidt, and their attempt at starting a new team of costumed adventurers from a mutual friend of their's. Reeves sends Gardner a scathing letter to him regarding this decision.
12th-15th
Edit
Riots break out in Chicago, Illinois. After police arrested a man that was wanted for armed robbery, black residents took to the streets in anger and looted and burned various stores throughout the West Side until the arrival of 1,200 National Guardsmen on July 15.[1]
Richard Speck is arrested for the murder of eight student nurses from South Chicago Community Hospital on the night of July 13 into the early morning hours of July 14, 1966.[1]
18th-23rd
Edit
The Hough riots break out in the predominantly African-American community of Hough in Cleveland, Ohio. During the riots, four African Americans were killed and 50 people were injured. There were 275 arrests and numerous incidents of arson and firebombings.[1]
The Gemini 10 successfully achieves rendezvous and docking with an Agena Target Vehicle (ATV), and Extravehicular activity (EVA).[1]
Walter Kovacs attends a church service held by Reverend Taylor Dean.
A woman named Sally Rose is found murdered in her apartment; Nite Owl II and Rorschach investigate the crime scene.
Nite Owl II meets with Twilight Lady.
Nite Owl II and Twilight Lady sneak into the home of a pimp named Carlos Onofrio.[50]
Nite Owl II attacks and interrogates Carlos Onofrio[50]
Nite Owl II and Twilight Lady head to the bedroom, and they strip down to reveal themselves. They end up having sex.[50]
Reverend Dean asks Walter Kovacs to go down to basement to collect some boxes to his office. Kovacs discovers a secret room and discovers a piles of corpses; one woman barely alive begs for his helps. Kovacs puts on his mask, but is shot by the reverend.[50] Reverend Dean sets the bodies on fire along with Rorschach inside, handcuffed on top of the bodies.
Nite Owl II and Twilight Lady head to Reverend Dean's church. They head to the basement and rescue Rorschach from burning alive. Twilight Lady confronts Reverend Dean, and he attempts to kill her; Nite Owl II attempts to stop him, but Rorschach stabs him through the heart with a picket sign that reads "The End is Nigh". They all escape before the entire church engulfs in flame.
Doctor Manhattan photographs Neil Armstrong on the occasion of the Apollo moon landings.
Adrian Veidt submits articles of incorporation to New York State for Luxor Imports, Inc., registered to Dimensional Developments, Inc. Veidt names Leo Winston CEO, Dimensional Developments a principal owner, and Leroy Gibbons treasurer.
The U.S. government predicts that the Việt Cộng will surrender within a week.
Several of the Việt Cộng soldiers surrender directly to Doctor Manhattan, their terror balanced by an almost religious reverence.[2]
On the 50th anniversary of the Tulsa race massacre, Nelson Gardner modified his will to leave his entire estate to Will Reeves, and if he were to decline he would bequeath all proceeds from any auction of his Minutemen paraphernalia to the Southern Poverty Law Center. He even went so far as to order that his remains be cremated, with no funeral or grave marker, feeling it was what he deserved.[36]
A soldier named Tyson serves in the Vietnam War. A fellow soldier saves his life on several occasions, but ends up with his face badly burned, earning the nickname "Rawhead"
The Vietnam War lasts a few weeks longer than expected, finally ending when Doctor Manhattan decimates the Việt Cộng's guerrilla forces by molecularly restructuring the jungles in which they hide into noxious gases.
Tôn Đức Thắng and Creighton Abrams sign the act of military surrender. The United States wins the Vietnam War.[61]
V.V.N. Day, celebrating American victory in the Vietnam War. President Nixon arrives in Saigon by helicopter to great applause. A pregnant Vietnamese woman named Liao Lin accosts the Comedian. When he refuses to take responsibility for their baby, she slashes him across the face with a broken bottle, leaving a permanent scar. In return, he shoots her dead. Doctor Manhattan watches, but does not interfere.[10][2]
November
Edit
Max Shea takes up work as an art therapist at a Veterans Affairs hospital in Cleveland, Ohio; he facilitates an art therapy program for Vietnam War veterans suffering from PTSD. Their poignant stories of shattered worldview and guilty conscience inspires Shea to write Fogdancing.[52][62] 
Richard Nixon is elected to a second term.
John David Keene is elected as a Senator in New York.[13]
Fogdancing by Max Shea is published.
Chris Deschaines is born.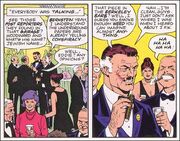 November
Edit
A rally protesting the repeal of the 22nd amendment takes place in Washington, D.C., which Nelson Gardner attends.[36]
On his way home, Nelson Gardner lost control of the car and crashes into a barrier at a high rate of speed. He ejects through the front windshield and is decapitated. His severed head is never recovered.[36]
Newspaper headline: "Third Term for Dick?" and "Ozymandias Quits: Smartest Man in World Goes Public."[2]
Gerald Anthony Grice kidnaps six-year-old Blair Roche thinking she was connected to the Roche chemicals fortune. When he realizes his mistakes he murders her in Modern Modes building.[25] Walter Kovacs intervenes and kills him.[25]
Rorschach's activities become more brutal in the wake of the Blair Roche kidnapping case.
Fast and safe airships are announced to become economically viable.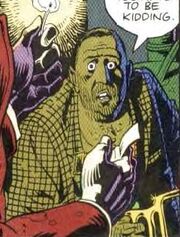 September
Edit
November
Edit
Judd Crawford graduates from the University of Oklahoma at Norman on the G.I. Bill with a Bachelor's Degree in Criminology.[55]
September
Edit
A top secret paper concerning Dr. Manhattan's invasion to Afghanistan is authored.[70]
November
Edit
Rorschach is declared wanted by the FBI.[68]
Richard Nixon is elected to a fourth term.[2]
The Comedian frees American and Canadian hostages from Iranian "anti-Manhattanite extremists." The survivors are left suffering with PTSD.[2]
Judd Crawford joins the Oklahoma County Sheriff's Department, where he meets John David Keene while working on Keene's security detail.[55]
The Veidt Foundation places the original costume of Ozymandias up for auction.
Max Shea meets with Adrian Veidt at the Gunga Diner in New York, in which the latter proposes to him about a top secret film production project that requires full discretion and for him to disappear from the public eye. Shea initially refused until he saw the amount of money he would be compensated for and agrees to the project.
On the same week of Max Shea's disappearance Robert Deschaines' brain is stolen while his body lies on a mortuary slab.[72]
Two months after Max Shea's disappearance other prominent creative figures disappear including Hira Manish, Norman Leith, Linette Paley, and James Trafford March. Whittaker Furnesse and others from the scientific community as well as menial workers also disappear.[72]
Dan Dreiberg visits Byron Lewis in Kennebunkport, Maine. Outside the asylum he hears an owl, an experience that revitalizes his childhood excitement.[75]
Ronald Reagan is elected Governor of California.[76]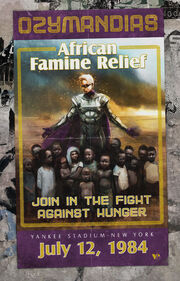 The Soviet Union conducts a bomb test in the Bering Sea.
Airing of an episode of late night United Kingdom current affairs review World in Focus with Jeremy Miller, in which photojournalist Alain Guillon and author Hal Eisner discuss the emerging geopolitical crisis.[80]
Eddie Blake is ambushed in his high-rise apartment and thrown out of the window. Blake dies upon impact.[33]
A ship arrives on Veidt's island, Max Shea and Hira Manish discuss the completion of their "baby" while Manish makes a final sketch.[43]
Dan Dreiberg and Laurie Juspeczyk prepare Archie.[43]
New Frontiersman features headline: "Honor is like the hawk... sometimes it must go hooded"; includes an article "Jewnited States of America" and the missing writer followup. Inside, it makes an appeal of clemency on behalf of heroes.[43]
Hollis Mason prepares a jack-o-lantern,
TV news features the anticipation nuclear war within ten days, and criticism between New Frontiersman and Doug Roth.[43]
Knot Tops and Joey convene to the newsstand asking for the evening Gazette. Headline: "Sing-Sing erupts: Captured vigilante sparks riot: Five dead"[43]
Archie exits the old warehouse.[43]
Big Figure attempts to take his revenge on Rorschach. Archie arrives at Sing Sing. Nite Owl and Silk Spectre rescue Rorschach, but not before he kills Big Figure.
11:00 PM, Dan Dreiberg, Laurie Juspeczyk, and Walter Kovacs return to Dreiberg's home.[43]
11:10 PM, Doctor Manhattan arrives and takes Laurie Juspeczyk to Mars.
After a discussion about the masked heroes, Derf and the Knot Tops high on katies head out to punish Nite Owl.
11:55 PM, Knot Tops storm into Hollis Mason's home, believing him to be the current Nite Owl, and kill him. His body is discovered by a group of kids.[43]
On Mars, Doctor Manhattan reveals to Laurie Juspeczyk that Edward Blake was her real father, and ultimately decides to return to Earth, his faith in humanity renewed given his theory that all humans are "thermodynamic miracles".
November
Edit
December
Edit
Nine Inch Nails perform their first concert at the Phantasy Theater in Lakewood, Ohio; Sean Parker and his parents are in attendance.
Sean Parker sneaks backstage to meet Nine Inch Nails and suggests that they add 'The' to the band's name.
Richard Nixon dies in office. Gerald Ford takes over as President of the United States.[89]
Chris Deschaines finds refuge in alternative rock bands like Jane's Addiction and The Nine Inch Nails, and is inspired to become a musician.
Jacob's Ladder is released in the United States.[1]
Bian My allows her daughter choose her own name. She chooses to name herself after the third century Vietnamese freedom fighter Lady Trieu.
December
Edit
On his 13th birthday, Sean Parker father gives him $1300 dollars and suggests that he invest in that money.
The Tech Recall and Reintroduction Act of 1993 is passed under Robert Redford, a thirty year, five-stage plan that grants the President of the United States authority to draft federal employees into the work of reintroducing technologies once deemed unsafe or illegal back into the public space.[77]
The Campaign Finance Reform and Donor Disclosure Act of 1993 is passed under Robert Redford, preventing corporate pact money in politics that would normally influence government policy.[51]
Robert Redford appoints Andres Serrano to rebuild the National Endowment for the Arts following decades of reduction and gutting by the Nixon and Ford administrations.[89]
Sean Parker becomes a millionaire after investing in industries that he predicted would take off due to post 11/2 technophobia and xenophobia such as print media; and even invested in "squidsploitation" markets like ExtraDimentional Security Systems.
Sean Parker invested in Tromaville Studios
December
Edit
The Nine Inch Nails perform at Wembley Stadium with special guests Green Day and Suede.
Laurie Juspeczyk is interrogated by Special Agent David Latimer of the FBI's Vigilante Operations division following her arrest. She cooperates and reveals the truth behind what really happened to New York on November 2, 1985.[93]
MerlinCorp, the technology company owned and operated by Dan Dreiberg, is raided by the FBI and recovers the blueprints to his inventions.[94]
The Nine Inch Nails hold a concert at the Urban Outfitters Amphitheater in Saigon, Vietnam. Trent Reznor unexpectedly walks out during the show announcing that this is his final appearance.
A geological survey at "The Crater" is conducted by the International Institute of ExtraSpatial Studies. Scientists concluded that The Crater is contaminated with Cherenkov Radiation - the unique energy signature of Doctor Manhattan.
The Crater becomes a worthless tourist trap.
November
Edit
The Redford administration begins taking steps to accelerate the complete reintroduction of electronic media into the public sphere.[77]
Robert Redford appoints Martin Scorsese to oversee the NFPF, further adding to his administration's records as a supporter of the arts.
Lady Trieu graduated from the Myanmar Institute of Technology with PhDs in astrophysics, nuclear fission, bioengineering, and nanochemistry.[56] 
Russia and China start seeing a disproportionate amount of Exotic Cephalopodian Entity showers. 
The Nine Inch Nails record their studio album at the Crater. 
The Manhattan Project by The Nine Inch Nails is released. 
Sons of Pale Horse walk out of their performance after seeing the audience they were performing for. 
Chris Deschaines apologizes for the creation of the Book of Rorschach in Might Magazine.  
Chris Deschaines disappears from the public eye. 
Los Angeles' KROQ radio station relaunches after five years off the air and at midnight played The Book of Rorschach in its entirety.
February
Edit
The Final Report of the Oklahoma Commission to Study the 1921 Tulsa Massacre is published.
November
Edit
The Nine Inch Nails begins recording their studio album The Manhattan Project at "The Crater" in North Wales.
Robert Redford appoints John Grisham to the Supreme Court, confirming him after a contentious process in the Senate.
Shutter Island by Dennis Lehane is published.[1]
December
Edit
The 10th Circuit decides Greenwood Survivors v. State of Oklahoma, laying the legal groundwork for reparations.
Bian My dies; Lady Trieu "harvests her memories," and recreates her through cloning technology.
Dale Petey writes a summary of the plot of Fogdancing and sends it as an entry for the annual recap contest for the periodical journal, Nothing Ever Ends.
Lady Trieu purchases the Myanmar Institute of Technology.
Kenya awards Adrian Veidt its highest civilian honor, the Chief of the Order of the Golden Heart, on the 40th anniversary of one of Veidt's signature accomplishments as a masked vigilante. It was his last known public appearance.[51]
Trieu Industries introduces Nostalgia to the market.
Lady Trieu becomes the world's first trillionaire following the success of Nostalgia.
A report from the Department of Extra-Dimensional Affairs releases information regarding the phenomena of Squidfalls.
December
Edit
December
Edit
Doctor Manhattan proposes to Angela Abar and allows her to use the tachyon ring that would wipe his memory and suppress his powers. Manhattan officially adopts the identity of Calvin Abar.
Angela Abar takes Calvin Jelani to the hospital to undergo treatment regarding his memory loss he received from a "car crash". Abar gathers background information and medical data from Jelani's last employer, Pyramid Global Construction.
December
Edit
Adrian Veidt begins writing his play The Watchmaker's Son. That night, he celebrates his first year on Europa with champagne and cake.
December
Edit
Adrian Veidt celebrates his second anniversary on Europa. To celebrate, he puts on a play, The Watchmaker's Son, dramatizing how Jon Osterman became Doctor Manhattan.
Jesse Ventura leverages the Redford administration with evidence about the government's involvement in the Dimensional Incursion Event.
Trieu Industries purchases Adrian Veidt's companies.
Members of Veidt Enterprises' board of directors visited Antarctica to seek Adrian Veidt's blessing on the sale of his company only to find Karnak completely unoccupied.
Adrian Veidt is declared missing.
Robert Redford is pressured by conservative Democrats and Independents to appoint Minnesota Governor Jesse Ventura to the Vice Presidency.
Robert Redford is elected to a sixth term.
Jesse Ventura passes away two weeks after the election under mysterious circumstances.
Robert Redford appoints Delaware Senator Joe Biden as his Vice President.
The 2012 edition of Ebert's Guide to Practical Filmgoing is released.
Adrian Veidt uses the bodies of his servants to spell out the words "Save me daughter" on the surface of Europa, just in time for one of Trieu Industries' space probes to fly by and see it. Shortly after, Veidt is put on trial by the inhabitants of Europa for attempting to escape.
The trial of Adrian Veidt concludes, and he is sent to prison.
Trieu Industries licensed patented micro-fusion propulsion technology to the SDI alliance, China, and the Egyptian Union
Robert Redford is elected to a seventh term.
Lady Trieu designs and launches the first micro-fusion spacecraft which she sends to Europa to return Adrian Veidt safely back to Earth by 2018.
Mike Ennis' father dies
Mike Ennis liquidates Black Freighter Records, donates most of his profits to the Three Million Foundation. Ennis also reconciled with Dao X and Gene Casablancas and gave them the rights to The Book of Rorschach.
December
Edit
Adrian Veidt is given a horseshoe hidden inside his seventh anniversary cake.
Seventh Kalvary implements a coordinated strike on police officers around the country, which is later dubbed "White Night". During one such operation, Mike, a member of the Seventh Kalvary, is mysteriously teleported to Gila Flats during his attack on the Abar residence, raising suspicions that Doctor Manhattan is living in Tulsa.
December
Edit
Lady Trieu's rescue spaceship arrives on Europa, on the day Adrian Veidt is "celebrating" eight years there.[85]
Adrian Veidt escapes his prison and heads toward the spaceship, but is confronted by the Game Warden who shoots him. Veidt, however, manages to catch the bullet with his hand and kills him.[85]
Adrian Veidt steps aboard the ship and escapes Europa. He is enclosed in a solid gold casing to survive the year long journey back to Earth.[85]
Lady Trieu lays the groundwork of the Millennium Clock in Tulsa, Oklahoma.
Roger Ailes files a lawsuit against Veidt Enterprises and Trieu Industries claiming a "systematic campaign of harassment, intimidation, and sabotage" against him and his employees for publishing reports that the Central Intelligence Agency had killed Adrian Veidt for secrets he possessed regarding the Dimensional Incursion Event. The lawsuit was dismissed and the federal government subsequently ordered Newspaper Corporation of America to either publish an apology to Veidt or pay a $100,000 for violating the Content Code Act. They chose to pay the fine.
Judd Crawford is appointed full-time chief of the Tulsa Police Department.
American Hero Story: Rorschach premieres.
Lady Trieu purchases the Clark farm, shortly before her rescue spaceship carrying Adrian Veidt lands nearby.
Robert Redford announces that he will not be running for an eighth term.
Cameron Crowe writes the liner notes for a 2018 reissue of The Nine Inch Nails entire discography.
The Talk of Tulsa section of the Tulsa Star-Sentinel releases "Lady Trieu: Fact or Fiction".[56]
Director James Doyan writes a memo to the Anti-Vigliante Task Force regarding the reintroduction of STAGE FIVE technologies.[77]
The IBM NetVista X41 is introduced to the FBI's Anti-Vigilante Task Force by Director James Doyan.[77]
September
Edit
Special Agent Dale Petey writes a memo urging the FBI not to declare Adrian Veidt dead, for fear of angering right-wingers who want him found and punished for his role in Rorschach's disappearance.[90]
Senator Joe Keene announces he is running for president.
The Washington Post-Intelligencer releases "Tulsa Police Chief Feared Slain" following the announcment of Judd Crawford's death.
Laurie Blake and the Anti-Vigilante Task Force sets up a fake bank robbery to lure in and capture Mister Shadow.
Senator Joe Keene visits her that night at her apartment and asks her to travel to Tulsa the next morning to look into the murder of Sheriff Crawford in exchange, he promises to pardon Dan Dreiberg if he becomes president.
Members of Cyclops and Seventh Kalvary including John David Keene and Jane Crawford arrive to witness Joe Keene's extraction of Doctor Manhattan's powers
Joe Keene prepares to enter the chamber as he gives a speech regarding Cyclops plans of restoring "racial balance" in America and putting an end to Redford's liberal policies.
Angela Abar arrives to stop Joe Keene from entering the chamber, warning him that Trieu let the Seventh Kalvary steal the lithium batteries they needed to build the cage to take Doctor Manhattan's power; Keene ignores her warning.
Joe Keene enters the transference chamber with Laurie Blake, Angela Abar, Wade Tillman and the Cyclops and Seventh Kalvary members in attendance. The system activates and a blue wave hits, and everyone is suddenly teleported to Greenwood by Lady Trieu.
Adrian Veidt and Laurie Blake are reunited for the first time in 34 years.
Due to the Seventh Kavalry's lack of knowledge regarding safety measures, Joe Keene is liquefied during the process and his remains spill across the area and into Doctor Manhattan's cage once Lady Trieu opens the booth.
Lady Trieu reads a letter written by Will Reeves highlighting Cyclops' white supremacy and history of crimes against people of color for a century, including the Greenwood Massacre of 1921.
Lady Trieu proceeds to kill John David Keene, Jane Crawford, and all the remaining Cyclops and Seventh Kalvary members on behalf of Will Reeves.
Doctor Manhattan uses Joe Keene's liquid remains to teleport Adrian Veidt, Laurie Blake, and Wade Tillman to Karnak, Antarctica.
Doctor Manhattan tells Angela Abar he did not send her away as he did not want to be alone when he dies, as Lady Trieu activates the floating sphere to take Manhattan's powers. Manhattan tells Abar he loves her before he is destroyed and his powers captured.
At Karnak, Adrian Veidt uses his squid rain device to send frozen squid to fall in Greenwood, which will obliterate anything in the nearby area. Laurie Blake calls Angela Abar in time to allow her and Bian to take cover, while the squid rain destroys the sphere and kills Lady Trieu before the transfer can be completed.
Angela Abar takes shelter at the Dreamland Theater, where Will Reeves is waiting for her with her children. Reeves reveals that Doctor Manhattan had made a deal with him and convinced him to make a deal with Lady Trieu, knowing this end had to happen so that his powers would not be taken by those that would abuse them.
Adrian Veidt offers Nite Owl II's airship "Archie" to Laurie Blake and Wade Tillman to return to civilization. Blake prepares to arrest Veidt, with Tillman possessing the 1985 video of proof that he was behind the squid attack. Veidt attempts to talk his way out of it, but Tillman knocks him out, and he and Blake drag him aboard the ship.
Halo Ten Records re-releases The Nine Inch Nails studio album The Manhattan Project featuring a comprehensive essay by Allan Kurtis Shea.
November
Edit
Harris Greenwald of Revolver Magazine writes a critical review of Sons of Pale Horse re-release of The Book of Rorschach.[99]
References
Community content is available under
CC-BY-SA
unless otherwise noted.