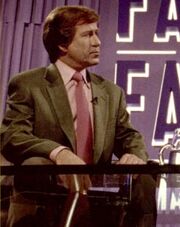 Ted Koppel is an American broadcast journalist and host of Face to Face in the 1980s.
Biography
Ted Koppel hosted Doctor Manhattan as a guest on in his show Face to Face where reporters posed him questions. The show ended abruptly with the arrival of Janey Slater on the set.[1]
Trivia
Ted Koppel is a real world broadcast journalist, best known as the anchor for Nightline in the 1980s.
Koppel replaces the character of Benny Anger from the original series.[2]
Behind the Scenes
Ted Koppel is played by actor

Ron Fassler

.
References
External links