Seymour David is a former editorial assistant at the New Frontiersman and academic scholar of post-modern culture.
Biography
New Frontiersman
In 1985, Seymour David worked at the New Frontiersman as an editorial assistant to Hector Godfrey. At times David would deliver newspapers to Bernard's newsstand where Walter Kovacs bought issues of the New Frontiersman from. David is partially seen behind Godfrey when he appears on the TV news.[1] David is also seen with Godfrey preparing a New Frontiersman draft, continuing the story about Max Shea's disappearance and put a filler from the crank file.[2]
Academic Career
After Rorschach's journal was published in 1987, David used the fame from discovering the journal to launch a career as a scholar of post-modern culture. He went on to become a historian, lecturer, and author. David became a fellow at the Douglas Roth School for Media and Popular Culture at New Columbia University. His books include Happy Face: The Button Art of Big Blue Dick and The Making of Martin Scorsese's Knot Top. For Charlton Records' Cancel Culture Classics series he has written essays for Suction Cups for Strings by Linette Paley and Eating My Way Out by Womb Goof.[3]
Dale Petey met Davis on several occasions at conferences and was not impressed by him in the slightest.
He resides in Greenwich Village with his husband, acclaimed vegan chef, Philip Bourquin, and their dog Hurm.[3]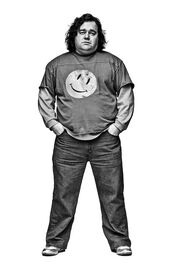 In 2019, David wrote an essay for the release of Sons of Pale Horse's album The Book of Rorschach in which he portrays the band as misunderstood misfits who made a "masterpiece" that deserves to be re-discovered and appreciated anew.[3]
Doomsday Clock
Seymour David is revealed to have been killed after he published Rorschach's journal and his killer remains at large.[4]
Film
In the film adaptation, he is portrayed by Chris Gauthier.
Trivia
Seymour was designed by Alan Moore to be "the ordinary common slob". He is the final character shown in Watchmen, playing a pivotal role in the final pages of the series, whom Moore describes as "the most low-life, worthless, nerdy sort of character in the entire book who finally has the fate of the world resting in his pudging fingers".[5]
References