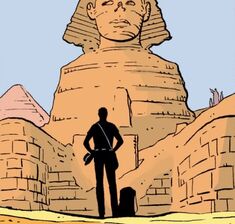 Ramesses II was the third pharaoh of the Nineteenth Dynasty of Egypt. He is often regarded as the greatest, most celebrated, and most powerful pharaoh of the New Kingdom. He is also known as Ozymandias in Greek sources.
Biography
Legacy
Ramesses II's Greek name Ozymandias is famous from Percy Bysshe Shelley's sonnet "Ozymandias". Ramesses II was the inspiration and namesake of Adrian Veidt, who took the ancient pharaoh's Greek name to become the vigilante known as Ozymandias. Ramesses II is also Ozymandias' password to begin his plan. When Nite Owl II and Rorschach broke into the Veidt Enterprises building to investigate, Nite Owl II unsuccessfully tried to crack Adrian's code until he remembered the Egyptian name of his namesake.
References
Community content is available under
CC-BY-SA
unless otherwise noted.