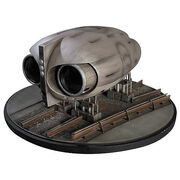 Part of the promotional merchandising for the upcoming film, Watchmen, the Owl Ship scale replica is an authentic model of Nite Owl II's Owlship, also known as Archie, that can be seen in the film.
Along with other action figures and replicas, the Owl Ship replica will be published by DC Direct and is scheduled to be released on March 4, 2009, just before the release of the film. The original price was slated at $324.00, though price varies by source.
Quality
The detailed replica in its entirety, including the base, measures approximately 7 inches tall, 12 inches wide, and 12 inches deep, while being uniquely packaged in a four-color box. The measurements conclude that it is a 1:24 size of the full-scale ship.
The replica used the actual blueprints used to make the ship in the movie, thus every detail, which includes environmental elements at the base, reflect its owl elements from the movie. The ship has a back-lit photographic interior, which lights up by use of a battery-operated control.
External links