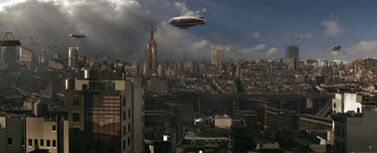 New York City
is the largest city in the state of New York and the city with the largest metropolitan area in the
United States of America
.
New York has long been a cultural arts center for the United States as well as the major hub for U.S. business and economy.
The majority of the Watchmen story takes place in the New York City area.
Locations
Edit
New York consists of five sections called "boroughs": Manhattan, The Bronx, Brooklyn, Queens, and Staten Island. Much of the action of Watchmen is centered in Manhattan, while a few scenes take place in Brooklyn. Other locations:
Comic book shop.
Where Veidt gives his charity performance.
Where Pale Horse and Krystalnacht give a concert.
A sleazy red light district full of brothels, prostitutes selling French and Swedish love and strip shows. One of them features "Enola Gay and the Little Boys". Rorschach passed along that street on his way from Moloch's house to the cemetery.[1]
An intersection with the buildings of Gunga Diner (later Burgers 'N Borscht), Utopia (later New Utopia), Institute for Extraspatial Studies with Bernard's newsstand and Promethean. Many characters pass from this spot.
References
External link
Edit
Community content is available under
CC-BY-SA
unless otherwise noted.