New York City
is the largest city in the state of New York and the city with the largest metropolitan area in the
United States of America
.
New York has long been a cultural arts center for the United States as well as the major hub for U.S. business and economy.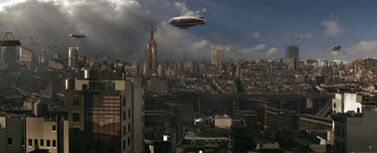 New York City is composed of five different boroughs: Manhattan, Brooklyn, Queens, The Bronx and Staten Island, that have the same boundaries as a county of the state of New York.
Locations
Edit
New Madison Square Garden
New Utopia
Columbia University
New Columbia University
New York County Courthouse
Alfredo's Barber Shop
Burlesk
Discount Liquor
Freshsave Foods
J&K Television,
M&G Variety Disount Store
Plantine's Liauidation Center
Poseidon Laundromat
Veidt Enterprises Building
Minutemen Headquarters Building
Three Million Foundation Office
Nelson Gardner's Mansion
Pyramid Construction
The Honey Pit
1 Police Plaza
Fred's Original Market
New York Gazette Building
New Frontiersman Building
The Paradise Inferno
Studio 54
The Judo Master Karate Kung-Fu Academy
Bellevue Hospital
New York Stock Exchange
New York Police Officers' Union Office
New York Amsterdam News Building
Hanky-Head
Americana Appliances
Cohen's Jewerlry
Copy Cottage
Criterion Appartments
Fantucci Electronics
Fast Food Market
French Quarters
Galaxy Arcade
Kinky of Paris
Lucky Bar
Milton & Frye
Pioneer Copys
Show & Tell
Tattoo Studio
Video Star
Love Nest
XXX
America Peep Show
McAnn's Bar
Osterman Fine Watches
National Bank Company Headquarters
Mason's Auto Repairs
References
External link
Edit
Community content is available under
CC-BY-SA
unless otherwise noted.