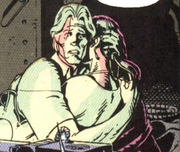 Max Shea (d. November 2, 1985) was the artist who wrote Tales of the Black Freighter.
Biography
Edit
In 1960 he was hired by National Comics for the first issue of the Black Freighter, colaborating with artist Joe Orlando. His first story was cliched and predictable but sturdy, and as he grew in experience with the comic medium, he experimented with innovative stories.[1]
Shea shared the magazine's glory with Orlando. It was the first time he received any fan-mail and this had adverse effects on his ego, seeing himself as the driving force behind its success. The moody and temperamental Shea became resentful of Orlando, harassing him with resentful attitude and forcing him to revise his artwork. After worked with Issue #9, Orlando asked to leave the book.[1]
Orlando was replaced by Walt Feinberg. There are few records of friction between the two creators, so it is supposed that Shea learned a lesson from Orlando's departure. His writing style matured and moved away from the mainstream swashbuckling tales; his stories were dark and sinister, touching themes like mortality and homosexuality, featuring an unnerving sense of reality under metaphysical terrors.[1]
Shea worked until issue #31. His last projected 5 stories were considered pornographic by DC and were rejected. Shea left the magazine and comic books in general and wrote classic novels like The Hooded Basilisk and Fogdancing[2] which became a film twice.[1]
At least in other quantum universes he wrote It Came from Dimension X published in Thrilling Space Mysteries.[3]
Disappearance
Edit
He disappeared mysteriously from his home town, Boston, in 1983[1][2] and within 2 months other creative figures also vanished.[4] Shea and other bright minds were taken to an uncharted island to work on a top secret project, presumably a film production. He came up with the story of alien babies chewing their way out of their mother's womb.[5] He apparently had an affair with Hira Manish, another vanished artist.
The last week of October, the police called off the inquiry about his disappearance because of lack of evidence.[2] The New Frontiersman insisted that these disappearances were linked and part of a conspiracy, although the paper blamed Cuba.[4]
He is shown on the island with Manish while a Pyramid Deliveries ship is coming to take the creature away. They discuss their current project and Shea's past work as Manish sketches the face of the alien. It is revealed that Manish did the art for some of Shea's works, and they refer to the alien both affectionately and sarcastically as "our baby."[5]
Later he is with the other artists on a ship bearing the Pyramid Deliveries logo as they depart from the island, presumably headed for the mainland. He and Manish hide in the cargo hold and are about to make love when Shea discovers a box under a tarpaulin. He lifts the tarp and realizes the box is a huge bomb that will go off in seconds, planned by Adrian Veidt to erase all traces of the alien project. When Manish asks what's wrong, he holds tightly to her, saying, "Nothing's wrong. Hold me." The bomb explodes moments later, obliterating the ship and killing Shea, Manish, and everyone on board. A small drawing of the alien, left by Manish, washes up onto the shore of the island, the sole remnant of their project.[6]
References
Community content is available under
CC-BY-SA
unless otherwise noted.