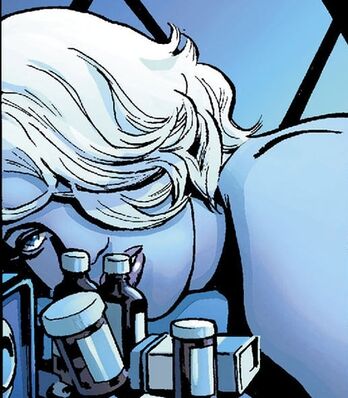 Marilyn Monroe (born Norma Jeane Mortenson) was an actress, model, and singer. 
Biography
On May 19th, 1962, Marilyn Monroe sang "Happy Birthday, Mr. President" to John F. Kennedy at a party held at Madison Square Garden to celebrate his 45th birthday. During the performance she gazed intimately at the President. Following her performance, Kennedy introduces her to Adrian Veidt while she exchanged similar glances to JFK's brother, Robert.[1]
Monroe obtained a prescription for Nembutal, which she fills at Crolsins Pharmacy under the name "Janet Smith".[2]
Jackie Kennedy deemed Monroe a security threat since she was cavorting with gangster Sam Giancana, and was annoyed by the affection her husband had for her, and asked the Eddie Blake to take care of the situation.[2]
On August 5th, 1962 Monroe has sex with Blake at her home in Brentwood, California. Blake then killed her afterwards and staged her death as a drug overdose by having her hold a bottle of Nembutal. He then kissed her naked buttocks and left.[2]
Monroe's death is ruled as a probable suicide. Upon reading about her passing, Adrian Veidt suspected that she may have been killed to tie up loose ends for the Kennedys.[1]
Trivia
Janet Smith is never mentioned by name, however, she is an obvious reference to Marilyn Monroe, in both her alleged relationship to the Kennedys and her death by barbiturate overdose. Her name is revealed in a close-up to the bottle of Nembutal she is holding.
Monroe's address is revealed to be 1280 Surrey Square, Los Angeles.[2]
References