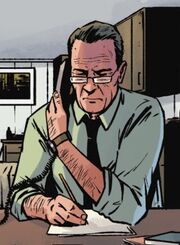 Jonathan Oates was a former U.S. Navy Seal and security contractor.
Biography
Jonathan Oates joined the United States Navy and later joined the Navy Seals in the late 1990s. In 2001, Oates assisted in the capture of terrorist Osama bin Laden. Because of his efforts, he became a decorated war hero and was awarded the medal of honor by President Robert Redford.
Oates retired from the military and worked as an independent security contractor for the U.S. State Department. He served in a United Nations mission to Iraq after Saddam Hussein committed suicide in 2006. Through his work, he developed contacts within the Redford Administration and began doing security work for Redford - even though the Secret Service handles Redford's security, it doesn't handle that of his campaign and Redford didn't want to use taxpayer money to pay for the extra security. Oates had helped with Redford's campaign security in both 2016 and in 2020.
Oates took part in the assassination attempt of Governor Gavin Turley on behalf of Redford. Using his contacts, he helped in acquiring badges for Wil Myerson and Laura Cummings. Oates was killed in New Mexico following a shootout between him and Cummings.