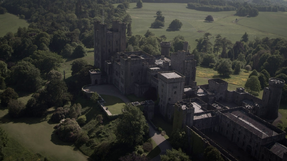 Cartwithen Castle is a country manor formerly located in Gwynedd, North Wales until it was transported to Europa by Doctor Manhattan.[1][2]
History
Cartwithen Castle was built in the 15th Century during the Medieval Period. The castle was photographed in 1885.[2]
During World War II, the lord and lady who resided in Cartwithen Castle utilized it as a refugee sanctuary for Jewish-Europeans fleeing Nazi persecution. Jon Osterman and his father, Hans, took up residence in the manor before emigrating to the United States.[1]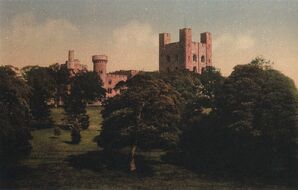 On November 3rd, 1985, Doctor Manhattan had transported the manor onto Europa's newly formed green surface and served as the home for the man and woman he created in the image of the wealthy couple that he met as a child during his stay at their home in their honor.[1] Back on Earth, the only eyewitnesses to the manor's unexpected disappearance were Marcus Burrell, a Jamaican oceanographer, and his family who were renting the estate for the winter. The massive hole where the manor had been became a religious gathering site and later tourist trap known as "The Crater". In 2001, The Nine Inch Nails traveled to the Crater to record their studio album, The Manhattan Project.[2]
Trivia
Most of the exterior and interior scenes were shot on location at Penrhyn Castle in Gwynedd, North Wales. They also recreated the castle as a 3D model for use in CGI scenes in the show.
References