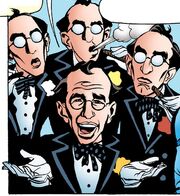 Four representatives of National Bank Co. They are all identical like siblings and have small stature and smoked cigars although they seem to have different surnames. Their only differences are in the pattern of their bowties (Abie's is dotted) and hairstyles.[1]
When the National Bank Co. noticed the rise of the 'masked man fad', the marketing team thought it would be a very interesting publicity prospect to be able to brag that a self-owned superhero would be protecting the customer's money. Designers were employed by the bank to make his costume. For purposes and to raise maximum publicity appeal, the costume was extremely gaudy, with a large dollar sign on the front and a cloak that draped to the floor, especially liked by the test audiences.[1]
As representatives of the Bank, Abie, Howe, Cheatem and Dewey auditioned the actor who would portray Dollar Bill around 1939. They put want ads in the newspapers and auditions were held on the 37th floor of Rockefeller 122. 13 guys auditioned for the role and many left angrily when seen they were supposed to wear a ridiculous costume. Only a down-on-his-luck good-looking youth, William Brady, agreed to take the role.[1]
It seems that Abie, Howe, Cheatem and Dewey also acted as Dollar Bill's agents and directors for his commercials. They also persuaded Brady to answer to a newspaper add and join the Minutemen. They persuaded him that like him, customed crimefighters were "flash and mirrors", not unlike the Dollar Bill special effects, and they were partially right.[1]
Abie, Howe, Cheatem and Dewey were also present at National Bank openings where Dollar Bill would cut the ribbon and sign autographs.[1]
They were also present at his funeral in 1947, along with his fellow Minutemen and a Police contigent.[1]
Their names seem to be a version of the gag name Dewey, Cheatem & Howe, although the order is altered, and Abie is added.
References
Community content is available under
CC-BY-SA
unless otherwise noted.