This is a timeline of events that occurred during the 1980s.
1980
June
20th
September
18th
In Detroit, Michigan, a class-action lawsuit launches against

Jacobs Motors

, on behalf of the victims of fuel-tank flare ups in the company's Apache car. The New York Gazette publishes an account of the proceedings.
November
4th
Richard Nixon is reelected to a fourth term of office as President of the United States.[3]
1981
April
The Bulletin of the Atomic Scientists moves the Doomsday Clock one minute closer to midnight.
28th
The New York Gazette's headline reads "Scientists Move Doomsday Clock One Minute Closer to Midnight".
Veidt Enterprises' research and development team shows Adrian Veidt a prototype for the next generation of electric cars, offering twice the mileage at half the charge and passing every safety test. He orders the vehicles into immediate production, instructing the team to put all other projects on the back burner and focus on the Manhattan Project, his plan to duplicate Doctor Manhattan's teleportation abilities.
May
31st
Late October or Early November 1981
Dan Dreiberg embarks on a trip to Africa with Professor Joseph Westwood, his editor at the Journal of the American Ornithological Society. The two go out every morning to observe the local bird life.[5]
14th
A couple of weeks after arriving in Africa, Dan Dreiberg sends a postcard to Hollis Mason describing his expedition. He admits to Mason that he misses being Nite Owl and is having trouble accepting the fact that he will never again wear the costume.[5]
Late November or Early December
1982
September
1983
May
1984
November
6th
Richard Nixon is reelected to a fifth term of office as President of the United States.[3]
1985
April
July
August
October
11th
12th
13th
16th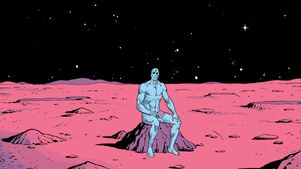 19th
20th
21st
22nd
25th
26th
27th
28th
29th
30th
31st
A ship arrives on Veidt's island, Max Shea and Hira Manish discuss the completion of their "baby" while Manish makes a final sketch.[16]
Dan Dreiberg and Laurel Juspeczyk prepare Archie.[16]
New Frontiersman features headline: "Honor is Like the Hawk: Sometimes It Must Go Hooded"; includes an article "Jewnited States of America" and the missing writer followup. Inside, it makes an appeal of clemency on behalf of heroes.[16]
Hollis Mason prepares a jack-o-lantern for Halloween,
TV news features the anticipation nuclear war within ten days, and criticism between New Frontiersman and Doug Roth.[16]
Knot Tops and Joey convene to the newsstand asking for the evening Gazette. Headline: "Sing-Sing erupts: Captured vigilante sparks riot: Five dead"[16]
Archie exits the old warehouse.[16]
Big Figure attempts to take his revenge on Rorschach. Archie arrives at Sing Sing. Nite Owl and Silk Spectre rescue Rorschach, but not before he kills Big Figure.
11:00 PM, Dan Dreiberg, Laurel Juspeczyk, and Walter Kovacs return to Dreiberg's home.[16]
11:10 PM, Doctor Manhattan arrives and takes Laurel Juspeczyk to Mars.
After a discussion about the masked heroes, Derf and the Knot Tops high on katies head out to punish Nite Owl.
11:55 PM, Knot Tops storm into Hollis Mason's home, believing him to be the current Nite Owl, and kill him. His body is discovered by a group of kids.[16]
On Mars, Doctor Manhattan reveals to Laurel Juspeczyk that Edward Blake was her real father, and ultimately decides to return to Earth, his faith in humanity renewed given his theory that all humans are "thermodynamic miracles".
The United States military moves to DEFCON 2.
Richard Nixon and Gerald Ford arrive at a secret military bunker and meet Henry Kissinger and G. Gordon Liddy.[20]
November
1st
2nd
3rd
27th
28th
1986
January
1st
April
May
9th
Summer
July
Honduras is devastated by mudslides and an earthquake leaving thousands without food or water.[5]
A series of Quake Aid concerts raise money to purchase supplies and equipment to help the survivors of Honduras.[5]
4th
October
4th
An airplane carrying supplies and equipment purchase with funds from July's Quake Aid concerts crashes while en route to help earthquake survivors in Honduras. The crash kills two pilots and seventeen people on the ground, and the plane lands in the only operational fresh-water tank within seventy miles of a makeshift Red Cross landing strip.[5]
December
25th
1987
Run for the Shadows: The Story of Ursula Zandt

by

Martha McCormick

is published.[5]
New York City raises funds to renovate the Minutemen's

former headquarters

as a public museum.[5]
January
1st
1989
References