This is a timeline of events that occurred during the 1970s.
1970
December
1st
1971
1971 or 1972
January
4th
March
March to May
Doctor Manhattan uses his mental abilities to decimate the Viet Cong forces. Ultimately, Several of the Viet Cong soldiers surrender directly to him, their terror balanced by an almost religious reverence.[1]
April
16th
May
31st
In or Before June 1971
June
The Vietnam War lasts a few weeks longer than expected, finally ending when Doctor Manhattan decimates the Việt Cộng's guerrilla forces by molecularly restructuring the jungles in which they hide into noxious gases.[6]
29th
In or After June 29th, 1971
30th
July
1st
Eddie Blake is court-martialed for killing the pregnant Vietnamese woman. To keep his identity a secret, members of the Joint Chiefs of Staff conduct the trial privately. He admits to the shooting, claims it was in self-defense since she was attacking him.[6]
Mid-1971
September
11th
The Joint Chiefs of Staff, presiding over Eddie Blake's court-martial for killing an unarmed civilian in Saigon, dismiss all charges, citing a lack of evidence.[6]
November
1972
Max Shea takes up work as an art therapist at a Veterans Affairs hospital in Cleveland, Ohio; he facilitates an art therapy program for Vietnam War veterans suffering from PTSD. Their poignant stories of shattered worldview and guilty conscience inspires Shea to write Fogdancing.[11][12]
March
5th
24th
June
17th
Five men are arrested for breaking and entering into the Democratic National Committee (DNC) headquarters at the Watergate office complex in Washington, D.C.. The FBI finds a possible connection to Richard Nixon's campaign, the Committee for the Reelection of the President.[13]
September
11th
November
7th
In or After 1972
1973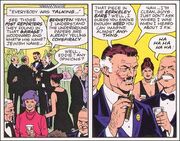 January
March
14th
Between December 6th, 1973 and October 12th, 1985
1974
February
6th
March
29th
August
9th
A rally protesting against the repeal of the 22nd Amendment takes place in Washington, D.C., which Nelson Gardner attends.[7]
On his way home, Nelson Gardner loses control of his car and crashes into a barrier at a high rate of speed. He ejects through the front windshield and is decapitated. His severed head is never recovered.[7]
1975
Newspaper headline: "Third Term for Dick?" and "Ozymandias Quits: Smartest Man in World Goes Public."[1]
Gerald Anthony Grice kidnaps six-year-old Blair Roche thinking she was connected to the Roche Chemicals fortune. When he realizes his mistakes he murders her in the abandoned Modern Modes building. Rorschach intervenes and kills him.[20]
Rorschach's activities become more brutal in the wake of the Blair Roche kidnapping case.
Fast and safe airships are announced to become economically viable.
Will Reeves buys the movie theater where he used to work.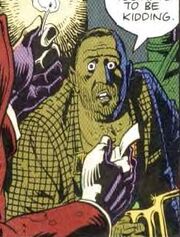 January
20th
March
3rd
July
12th
1976
January
11th
15th
September
November
2nd
22nd
In or Before 1977
While pursuing a dope dealer, Dan Dreiberg takes a moment to urinate. By the time he finishes and dons his costume, his quarry escapes. Afterward, Dreiberg redesigns his outfit to make it easier to relieve himself in the future.
1977
March
The Twilight Lady is released from prison after nine years. Returning to her now dilapidated Upper East Side mansion, she resumes the vice trade.
April
The New York City Police Union enters into negotiations with the city council regarding their annual pay raise. The council denies the request on the grounds that masked adventurers have been doing the cops' job for them.
12th
The New York Gazette's front page headline reads "City Council Denies Cops Raise!" Upon reading the article, Adrian Veidt deems the council's decision shortsighted.
June
August
3rd
29th
October
14th
After October 23rd, 1977
Dan Dreiberg begins writing occasional articles for ornithological journals.
1978
United States Congress issues a joint resolution authorizing Vietnam to draft a state constitution.
August
28th
September
6th
22nd
1979
February
August
14th
References
Community content is available under
CC-BY-SA
unless otherwise noted.