This is a timeline of events that occurred during the 1960s.
1960s
While vigilantism was illegal, the laws are altered to accommodate strategically useful talents like Doctor Manhattan.[1]
Because of the existence of Doctor Manhattan, genetics, quantum physics, engineering, and other sciences, start to leap forward from that year on.
1960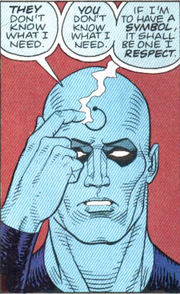 February
Jon Osterman is named Doctor Manhattan by the government who prepares him as a weapon and gives him a suit. He marks his forehead with the symbol of a hydrogen atom.[1]
Mid-February
The National Regaler

reports unconfirmed rumors of a "nuclear super-man".[2]
Early March
May
June
3rd
Dan Dreiberg graduates from

Harvard University

with degrees in zoology and aeronautics.[4]

Harvard University

's commencement ceremony features speeches by Harvard President

B.W. Thoreau

("You're New Responsibilities in the New Age"), Dean of Students

Lucius Gallsworthy

("Who Would Have Dreamed"), guest speaker Robert F. Kennedy ("The Bright Tomorrow"), and Dan Dreiberg himself as valedictorian ("A Little Nostalgia"), with a closing prayer by Father

George Berkeley

.[2]
11th
The New York Gazette reports that the collection barrel of a Harlem mission for the underprivileged has received five suitcases containing more than a million dollars, each case bearing an anonymous clipped note indicating "For the needy".[2]
17th
June 1960 and Beyond
Adrian Veidt keeps tabs on the Comedian's activities, disturbed by the immoral actions he commits in the name of fighting crime.
August
16th
Dan Dreiberg writes a letter to his uncle Alan, gratefully declining his job offer of joining the family banking business.[2]
September
9th
November
Doctor Manhattan is sent by the

Pentagon

to justify his name as a crimefighter and sent to Dante's, a vice-den owned by Moloch where he blows up a criminal's head.[1]
December
4th
1961
Eddie Blake beings working as a personal bodyguard for

Findlay Setchfield South

.[7]
January
20th
March
11th
Ford

and

General Motors

both actively pursue electric cars, with prototypes expected within three months thanks to Doctor Manhattan's ability to synthesize mass amounts of lithium for battery use.[9][2]

Science Today

reports that an electric charge should allow a vehicle to run for two hundred miles for a little as $2.00.[2]
In or Before May
William Water Schott, also known as the Bully, and his gang begin a reign of terror in the Bronx, carrying out acts of racketeering, theft, and murder.[2]
Before May 22
May
22nd
23rd
September
1st
Byron Lewis is arrested during a civil rights demonstration at a Greyhound bus terminal in

Mobile

,

Alabama

. The sit-in's organizers deny his involvement in the event.[2]
4th
1962
May
11th
Kitty Genovese orders a dress from

Manhattan Fabrics

. After she opts not to collect the garment, deeming it ugly, Walter Kovacs decides to take the dress home, admiring it for it's shape-changing quality and black-and-white motif, and cuts the fabric up and uses heated implements to reseal the latex.[11]
Mid to Late May 1962
Hollis Mason officially retires from crimefighting.[5][7]
Hollis Mason allows Dan Dreiberg to become his successor.
Jon Osterman attends a civic banquet in Nite Owl's honor. Hollis Mason receives a statuette of himself, bearing the phrase "In Gratitude". When Osterman asks if his decision of retiring was age-based, Mason admits it was the other's arrival that prompted it, as he felt obsolete by comparison to a superhuman.[1]
Hollis Mason opens Mason's Auto Repairs, specializing in obsolete vehicles.
The

New York News

features front page headline: "Hero Retires: Opens Own Auto Business"[12]
Dan Dreiberg buys a

townhouse

at Manhattan's 79th Street, located above a forgotten subway tunnel, then creates plans to turn the tunnel into a vast subterranean workshop, which he calls the Owl's Nest.[2]
Sally Jupiter tells Hollis Mason that her daughter Laurie wants to be a superheroine like her mother once she's old enough. This is only half-true, however, since Laurie is only giving in to Sally's wishes.
Hollis Mason finishes writing Under the Hood. Among other things, he popularizes the incorrect theory that Rolf Müller was actually Hooded Justice.
Under the Hood is published by

Chichester House

[2] and released.
August
28th
Byron Lewis is committed to an asylum in

Maine

, following a mental breakdown and long bout of alcoholism.[13][7][2]
September
Astonishing Suspense #15 introduces the character of Pontius Pirate. It was a gateway to commercial success for the pirate hero and inspired the launch of the Pontius Pirate franchise by Wil Myerson.[14]
5th
The

Holland Valley Alcohol Rehabilitation Centre

files a patient evaluation on Byron Lewis, reporting no progress after his first week of treatment.[2]
11th
1963
February
7th
September
16th
30th
The Outer Limits airs an episode titled "The Architects of Fear" during its first season, written by Meyer Dolinsky and directed by Byron Haskin.[8][15]
23rd
December
25th
1964
January
13th
March
13th
20th
22nd
December
3rd
1965
January
2nd
August
30th
1966
April
The New York Gazette headlines: "Dr. Manhattan 'An Imperialist Weapon' Say the Russians.", "French Withdraw Military Commitment from NATO" (in the real world, this happened a year later), and "Heart Transplant Patient Stable".[17]
14th
May
August
26th
1967
Adrian Veidt sets his master plan into motion to frighten mankind into seeking salvation, by creating a threat so terrible that nations will have no choice but to set aside their differences to fight it together.
Adrian Veidt develops a patent for public spark hydrants.
A former runaway and prostitute known as Mother forms a gang-cult called

The Brethren

as a "family" for New York City's homeless population.
Mother grows obsessed with the work of William Blake and she and her gang-cult "children" go on a spree of ritual killings and kidnappings, somehow avoiding the notice of the police and costumed adventurers.
Dimensional Developments begins hiring employees that were associated with Doctor Manhattan including Wally Weaver, Janey Slater, and Edgar Jacobi.[12]
Ozymandias exposes a plot by rogue right wing extremists in the

United States military

to test biological weapons on the citizens of Nairobi and surrounding areas.[18][19]
Outraged by Adrian Veidt's "unpatriotic" actions, New Frontiersman denounces him as a "Puppet of Peking".
January
30th
At 11:15 AM, the U.S. Secret Service issues a communique to Agents Abner and Delacroix, ordering them to deny Janey Slater any further access to Jon Osterman. Laurie Juspeczyk is added to Dr. Manhattan's list of cleared visitors.
February
11th
March
6th
December
27th
1967 to 1970
1968
April
23rd
November
5th
1969
January
20th
22nd
February
While performing covert duties in

Lik Dao

, Eddie Blake contracts gonorrhea. Doctor Edward Ross tends to Blake's condition.[2]
May
9th
Doctor Manhattan aids inform him that he is slated to be a guest on

The Martha Edwards Show

. He reacts in surprise, despite knowing his own future.[2]
11th
Doctor Manhattan appears on

The Martha Edwards Show

, where he discusses the nature of his powers.[2]
12th
July
21st
Neil Armstrong

, an astronaut for NASA's Apollo 11 mission, becomes the first human to step foot on Earth's moon.[8] Doctor Manhattan assists with the mission.[24]
Between 1969 and 1971
A plaque adored with Richard Nixon's name is placed on Earth's moon.
Between the 1960s and 1985
September
23rd
References