This is a timeline of events that occurred during the 1950s.
 1950
September
16th
1951
February
27th
July
September
18th
1952
1953
EC Comics

artist Joe Orlando poses for a photo.[1][5]
While performing covert duties in Seoul, Korea, Eddie Blake contracts syphilis for a second time. Dr.

David Baines

tends to Blake's condition.[6]
January
20th
June
6th
Vittorio Rotelli

dies.[7]
May
27th
1954
February
While performing covert duties in Pen Jomn, Eddie Blake sustains a fragmentation wound when mortar fragments shred his left deltoid.

Hank Stevens

tends to Blake's injuries.[6]
17th
June
14th
Byron Lewis testifies before the HUAC. His left wing associations cause him to endure lengthy, and ruthless investigations compared to those of the other Minutemen members.[12]
September
9th
11th
Newsworld

quotes the Comedian as describing Byron Lewis as "a flake" and "a nerdy little kid trying to hang out with big brother and his friends." Blake adds, however, that he doubts Lewis is "a goddamned Red".[6]
1955
February
May
June
1st
2nd
10th
July
A badly decomposed corpse with a bullet in the back of the head washes up off the coast of Boston, tentatively the body is identified as Rolf Müller.[12]
Eddie Blake's government connections prevent any serious investigation into Rolf Müller's death.[16]
30th
September
1st
1956
1958
January
3rd
The

New Haven Register

announces funeral details for

Frank Madison

.[6]
5th
A funeral is held for

Frank Madison

at Our Lady of Mercy, in Stamford, Connecticut.[6]
Late March
Ozymandias makes his crimefighting debut by busting an opium and heroin smuggling racket.[12]
May
6th
Michael Florence

informs Jon Osterman that the Department of Physics at

Princeton University

has accepted his doctoral dissertation.[6]
June
7th
Princeton University

holds a graduation ceremony, during which Jon Osterman is awarded a Doctorate of Philosophy in Atomic Physics.[19][6]
1959
In order to boost comic book-inspired agents, the government comes on the side of comic books.[5]
Having anticipated the massive boom in pirate-related material,

EC

come out stronger. Their line of Pirate titles dominate the marketplace.[5]
February
2nd
May
12th
14th
July
Jon Osterman and Janey Slater travel to New Jersey – Jon to visit university friends and Janey to visit her mother. At

Palisades Amusement Park

, a photographer takes their picture. A fat man breaks Janey's watch and Jon promises to fix it. At his hotel, they make love for the first time.[19]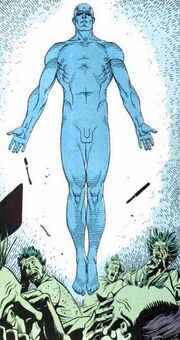 August
Scientists at the Gila Flats Test Base conduct fourteen experiments to remove the intrinsic fields from concrete blocks. All fourteen tests end with the concrete's disintegration.[6]
20th
Jon Osterman fixes Janey Slater's watch and brings it with him to work.[19]
Jon Osterman accidentally leaves his lab coat, with Janey Slater's watch in one pocket, inside the intrinsic field chamber. While having lunch with her, he realizes he has forgotten the watch and returns to retrieve it.[19]
While Jon Osterman is still in the chamber, the door automatically locks as the generators warm up for an experiment to remove intrinsic fields from a fifteenth concrete block. Jon yells to be let out, but Milton Glass tells him there is no way to override the time-lock, and Janey Slater runs away in tears, unable to watch her lover die. As the particle cannons fire, Osterman's body is painfully reduced to its component atoms, and he screams in terror.[19]
September
23rd
October
November
Jon Osterman's nervous system appears for a moment in the men's bathroom at Gila Flats while two employees are washing their hands and discuss Fidel Castro and Elvis Presley.[19]
10th
Cooks at the Gila Flats facility are shocked when a image of Jon Osterman's circulatory system suddenly appears in the kitchen.[19]
14th
22nd
In a whistling sound, sparkling cutlery and an ultraviolet light Jon Osterman rematerializes in the Gila Flats cafeteria, having transformed into the being that will later be known as Doctor Manhattan. Those present get sunburns.[19]
25th
Jon Osterman and Janey Slater spend Christmas together. She gives him a golden ring and expresses her fears about what is becoming. He tells her that he will always want her, knowing that it is not true.[19]
References